Posts by Sarah Elliott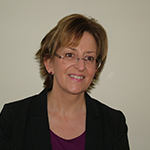 Sarah Elliott was appointed as the Regional Chief Nurse for NHS England (South) in April 2014 and also leads a number of national commissioning work streams including continence.
Following qualification, Sarah practiced as a nurse in a range of hospital settings including intensive care. She later developed an interest in health promotion and public health and trained as a Health Visitor and Practice Teacher in Brighton.
She has held several Director of Nursing posts in a number of organisations within the South in community/mental health Trusts and commissioning organisations.
In addition to leading the agenda for commissioning for quality and safety in NHS services across the south, Sarah has initiated multiple patient and public involvement activities.
Alongside Sarah's professional working life, Sarah has undertaken voluntary work with Youth Offending teams and the Alzheimer's Society. She is also an accredited coach and special advisor to the CQC.