Posts by Sunita Pandya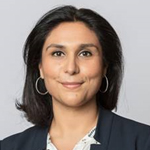 Sunita Pandya is currently Director of Arts Administration at the Southbank Centre, a role she took up in 2018.
Having read history at the University of Bristol, Sunita set up her own production company which produced work regularly with Bristol Old Vic, in Edinburgh and across the Southwest for six years.
After university, Sunita worked at the Orange Tree Theatre ahead of attending Drama School London to study theatre and TV directing. Upon graduating, Sunita joined the National Theatre before moving to Battersea Arts Centre where she programmed and delivered festivals such as the ground-breaking One-on-One Festival, the annual Scratch Festival and a UK tour with Blind Summit Puppet company.
From there, Sunita worked at Sadler's Wells as Project Manager before moving to WildWorks as Executive Director. Here Sunita produced WildWorks' projects for two years.