Posts by Suzanne Rastrick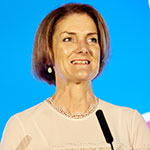 Suzanne qualified as an Occupational Therapist from Oxford. Suzanne was the first Allied Health Professional (AHP) to hold a substantive Director of Nursing post in both provider and commissioning organisations. She became the Chief Executive of a Primary Care Trust, where a particular highlight was having leadership responsibility for delivering health resilience and health 'blue light' services during the Olympic sailing events held in Dorset in 2012. She subsequently gained authorisation for a large clinical commissioning group, before moving to her current post with NHS England. She was appointed as Chief Allied Health Professions Officer for England in September 2014.
In 2017 Suzanne launched the first AHP strategy for England which has been recognised as ground-breaking in policy development from its use of crowdsourcing. Building on this, Suzanne published the second AHP strategy – 'AHPs Deliver' in June 2022. This iteration had a greater emphasis on patient, public voice and specifically the inclusion of those who may be digitally excluded along with communities who may find it difficult to connect with traditional consultation methods. The result is a national strategy crowdsourced from diverse populations for people and communities AHPs serve.
For over three decades, Suzanne has held non-executive portfolios outside of the NHS, including audit committee chair roles, predominantly in the housing and charitable sector. Suzanne was recognised as an Officer of the Order of the British Empire (OBE) in the Queen's birthday honours list 2019.
Follow Suzanne on Twitter @SuzanneRastrick or Instagram @chief_ahp_officer_england