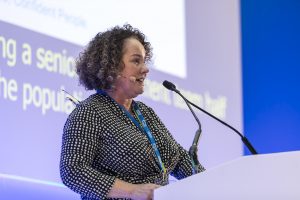 We are making it easier than ever before to share what you have learned from Expo 2017 with your colleagues and networks.
Speaker Videos and Transcripts
All of our main stage sessions at Health and Care Innovation Expo 2017 were fully recorded. Full videos and transcripts of a selection of speeches and panel discussions featured on the main stages are available via the links below.
Further videos and transcripts of sessions will be made available over the coming weeks, along with a selection of videos focusing on other areas of the event.
Presentation Slide Packs
The slides linked below give an overview of the key content at Expo 2017. Please download these for use in briefing colleagues and networks.
Sharing slide pack *Please note this is a very large file, which includes speaker notes for each slide. Follow the link to save the presentation to your computer before attempting to open the Powerpoint file*
All the presentation slides used across our main stages, theatres and pop-up universities are available on Glisser.
Follow the links below to find presentation lists for each key platform at Health and Care Innovation Expo 2017. You can make your own notes on the slides before downloading copies to your e-mail address, using the icons in the bottom right of the web page.
*Please note not all speakers used presentation slides*
If you are unable to find the slides you are looking for, please e-mail england.expo@nhs.net.
Expo Mobile App
You can also view and download all available presentations direct to your mobile device using our exclusive Health and Care Innovation Expo mobile app.
The app can be downloaded on iPhones, iPads and Android phones.   A web version is available for Windows and Blackberry phone users.
Anyone can download the app, but we recommend that registered attendees log in, following the instructions below, to access all the exclusive features that are available, such as attendee networking.
Step 1: Download the App!
The first thing you'll need to do is download the app on the device you're bringing to the event.  Visit https://crowd.cc/s/Sde4 to download the app. Once the app installs on your device, tap its icon to open it.
Tap 'Log in for more features'.  Enter your first and last name where prompted, then tap 'Next'.  Enter the email address where you'd like your verification email sent, then tap 'Next' again.
Don't have iOS or Android? Visit https://crowd.cc/hciexpo2017 to use the mobile web version.  Tap the menu icon in the top left, tap 'Log in', then 'Log in' again from the dropdown menu and enter your name and email address.
Step 2: Verify Your Account
Exit the app and open your verification email.  You'll see it includes your four-digit verification code.
Return to the app and enter the verification code, then tap 'Verify' to log into the mobile app.