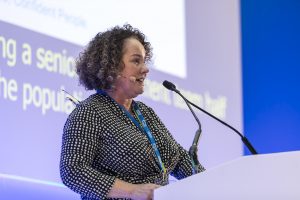 We have made easier than ever before to share what you learned from Expo 2017 with your colleagues and networks.
Videos and Transcripts
Videos giving an overview of all aspects of Expo 2017, including our official video featuring interviews with NHS England Chief Executive Simon Stevens, Mayor of Greater Manchester Andy Burnham, Chief Inspector of Adult Social Care Andrea Sutcliffe and other key attendees, are available via the links on the right hand side of this page.
Full videos and transcripts of a selection of speeches and panel discussions featured on the main stages are also available.
Photographs
You can access more than 350 photographs from Health and Care Innovation Expo 2017 via the NHS England Flickr account. You can also download these pictures from Flickr by registering for a free Yahoo! account.
More than 2,000 photographs were taken at Expo 2017, so if you can't find the image you are looking for, please contact the Expo Team at england.expo@nhs.net and we will do all we can to help you.
Presentation Slide Packs
The slides linked below give an overview of the key content at Expo 2017. Please download these for use in briefing colleagues and networks.
Sharing slide pack *Please note this is a very large file, which includes speaker notes for each slide. Follow the link to save the presentation to your computer before attempting to open the Powerpoint file*
All the presentation slides used across our main stages, theatres and pop-up universities are available on Glisser.
Follow the links below to find presentation lists for each key platform at Health and Care Innovation Expo 2017. You can make your own notes on the slides before downloading copies to your e-mail address, using the icons in the bottom right of the web page.
*Please note not all speakers used presentation slides*
If you are unable to find the slides you are looking for, please e-mail england.expo@nhs.net.