Health and Care Innovation Expo 2019 was the biggest NHS-led event of the year. Held on 4-5 September at Manchester Central, it attracted around 5,000 people from the NHS, social care, local government, the third sector and the commercial sector. It focused on bringing the NHS Long Term Plan to life.
At Expo 2019, there were a huge range of speakers and activities across the two days: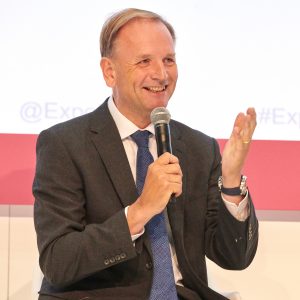 Attendees heard from NHS England and NHS Improvement Chief Executive Simon Stevens about a new-generation gene therapy that restores sight to people born with inherited retinal dystrophies and will be made available on the NHS.
Prerana Issar, Chief People Officer at NHS England and NHS Improvement, announced new NHS passporting agreements that will cut the need for inductions and other administrative work when staff move between organisations
Tanni Grey-Thompson,  Paralympian, Peer and Chair of the not-for-profit health body, ukactive, along with an expert panel,  including Clenton Farquharson Chair of the Think Local Act Personal partnership board, spoke about what personalised care means to them and how it is about moving away from "what is the matter with me" to "what matters to me.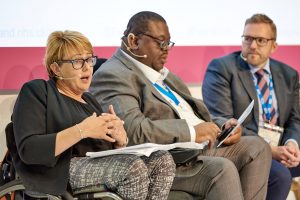 Claire Murdoch, National Director for Mental Health at NHS England and NHS Improvement, was joined by a panel including NHS Youth Forum member Hope Gorton as she called on social media companies to take action to protect young people and promote positive mental health messages.
Chief Nursing Officer Ruth May, launched the drive to find 10 passionate NHS  App Ambassadors including nurses, midwives, allied health professionals and doctors to promote the use of the NHS app.
BBC journalist Jeremy Bowen, spoke about his experience of bowel cancer and encouraged people to seek early diagnosis rather than "die of embarrassment".
Simon Stevens and Mayor of Greater Manchester Andy Burnham announced plans for NHS England and NHS Improvement and Greater Manchester to work together to reduce the NHS's Carbon Footprint
Senior healthcare leaders reaffirmed their commitment to race equality across the NHS workforce. A panel chaired by Yvonne Coghill, director of the Workforce Race Equality Standard (WRES) programme, focused on the Interim NHS People Plan and its ambitions to make the NHS the best place to work for all, with a diverse leadership.
Prof. Steve Powis, National Medical Director at NHS England and NHS Improvement, and Dr Simon Eccles, Deputy Chief Executive of NHSX,  discussed how digital technology is supporting people with cardiovascular and respiratory disease as well as saving lives, including a demonstration of the GoodSAM app which enables qualified bystanders to provide life saving care by sending an alert to their phone about any emergencies they are nearby.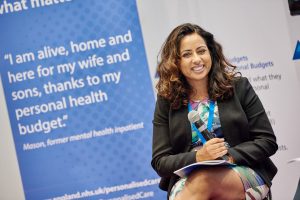 Our five theatres  and seven Pop-up University workshop rooms were extremely busy throughout the two days, with sessions including:
Kate Terroni, the CQC's Chief Inspector of Adult Social Care, with a panel of experts, focused on All you've ever wanted to know about adult social care but were too afraid to ask
Elizabeth Bradbury, Director of the Advancing Quality Alliance, and her colleagues helping you solve real-world challenges with Creative approaches to delivering service improvements
Prof Gillian Leng, Deputy Chief Executive of NICE, leading discussion on Building the Future Together: Improvement and the Long Term Plan
Donna Hall CBE, Chair of the New Local Government Network,with leaders from the NHS RightCare and Getting It Right First Time programmes setting out how the Model Health Service is developing to give even more support to the health and care system at local level.
Interactive Q&A with leaders from the Trusts within the Global Digital Exemplar programme
Becks Fisher, Oxford GP and lead for Next-Gen GPs, with a panel discussing the future of primary care leadership
Our feature zones held packed programmes of speakers, presentations and activities focusing on the biggest opportunities and challenges for the health and social care sector.