NHS England regional teams
NHS England has made changes to its internal structure as part of its Organisational Change Programme 2014/15. These changes came into effect in April 2015.
As part of this process NHS England's area teams were integrated into the four existing regional teams: London, Midlands and East, North and South, each maintaining a local presence. Although we have changed our internal structure, NHS England remains one organisation.
The regions cover healthcare commissioning and delivery across their geographies (which are shown on the map below) and provide professional leadership on finance, nursing, medical, specialised commissioning, patients and information, human resources, organisational development, assurance and delivery. The regional teams work closely with organisations such as clinical commissioning groups (CCGs), local authorities, health and wellbeing boards as well as GP practices.
The changes were necessary to ensure that we can operate as efficiently and effectively as possible in achieving the best outcomes for patients through our commissioning decisions.
The key difference is that our regional teams now operate as a single tier. Before April 2015, there were two tiers, with regional teams and followed by area teams. This is summarised in the image below: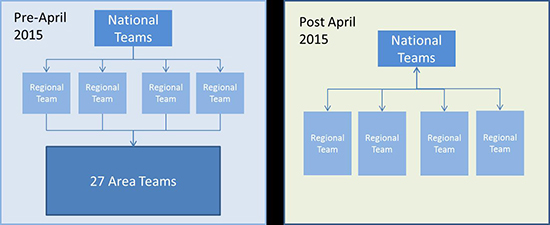 For further information on the regional teams, including contact details, click on the map below, or use the links provided at the foot of this page.