Operating theatre – Norwich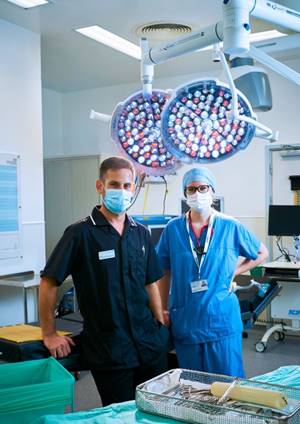 "Of course, I wanted to make changes. Greener healthcare is simply high-quality healthcare. It works for patients and the planet."
Amy is a Consultant Anaesthetist at Norfolk and Norwich University Hospitals NHS Foundation Trust, and Joel works alongside her as a Surgical Matron. Together, they are pioneering one of the greenest operating theatres in England by reducing unnecessary emissions while maintaining high quality patient care.
The team in Norwich now use greener gases to anaesthetise patients, as well as delivering anaesthetic to patients intravenously – known as total intravenous anaesthesia (TIVA). TIVA can improve the patient experience by reducing sickness and the rates of adverse airway events, as well as benefitting recovery nurses who would otherwise be exposed to gases breathed out by the patient after their anaesthetic.
Across the NHS, more than 40 hospital trusts have eliminated the use of Desflurane, an anaesthetic gas with a carbon footprint 20 times greater than other alternatives.