On 5 July 2023, the NHS will mark 75 years of service. Treating over a million people a day in England, the NHS touches all of our lives.
We will be celebrating this milestone by showcasing the best of the NHS, including staff and patients.
Name: Diane Scrivins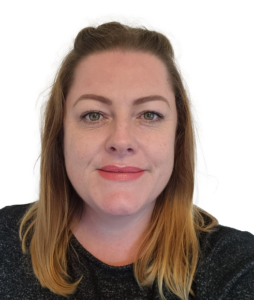 Job title: Infection Control Nurse
When did you start in the NHS? January 2011
Why did you choose to work in the NHS? I wanted to make a difference to the people that were at their most vulnerable.
Describe what you do in 100 words? I currently ensure that community services providing care, follow the correct guidance and standards. I ensure they deliver a safe and clean environment to the service users they care for through regular audits. I ensure the risk of spreading infections is reduced by educating and guiding staff and services. I am involved in a pilot scheme to reduce hospital admissions and antimicrobial resistance. I work within a multidisciplinary network to ensure an open and honest culture is maintained. I undertake surveillance to monitor infection rates and report to my managers.
What do you most enjoy about your role? I enjoy building relationships with the services to ensure care delivery is effective and safe. I enjoy assisting services to deliver a service that is required to maintain service user's environment. I enjoy interacting with a variety of community settings. I enjoy seeing improvements in services with my input. I enjoy making a difference.
What would you say to someone thinking about a career in the NHS? I would say, being a part of such an organisation can be tiring and hard work but rewarding. There are pressures above and below but having that one thank you is all worthwhile. The NHS has had its fair share of stigmas, but once you find a role you enjoy, the rest is easy. There are great benefits and some fabulous specialities, you just need to find your place. There are some fabulous staff within the NHS, some of which I am privileged to have met and worked alongside. I wouldn't change my career for anyone.
How would you describe the NHS in one word? Applaudable.
Name: Paul Harvey
Job title: Medical Devices Clinical Trainer
When did you start in the NHS? 1993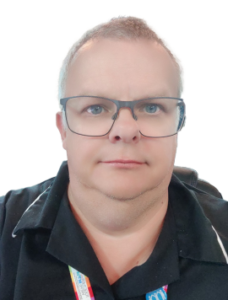 Why did you choose to work in the NHS? Both my parents worked in the NHS – my mother worked as an Occupational Therapist, and my father worked in the Ambulance Service.  I have fond memories as a child spending many hours in the OT department helping the patients with their tasks – basket weaving, printing and going on trips out with the Stroke Club.  This definitely developed a caring attitude in me and I qualified as a nurse in 1993 and have not looked back since.
I feel that it has been a great honour to be able to care and look after patients at all the stages of their life – allowing me to provide a small part to ensure that they return to health or die with dignity.
The caring genes must have continued as my daughter also works in the NHS now as a radiographer.
Describe what you do in 100 words? Currently, I am a medical devices trainer.  Having worked clinically for nearly 30 years, I wanted to try something new.  I have always enjoyed teaching and training staff and when this role came up I jumped at the chance.  I go around the hospital training staff on all the infusion devices [and other equipment] that we use.  We have also started training in the Universities to give the students a safe starting point for when they come into our Trust as qualified members of staff. I also have to audit and manage the Medical Devices Competency Matrix – which is an important document that every clinical area needs to complete every year.
What do you most enjoy about your role? I love going around the hospital and getting to know all of the staff on the wards, providing them with the training needed to keep them and their patients safe. Also after 30 years of shift work, it is nice to get a work-life balance back.
What would you say to someone thinking about a career in the NHS? I can honestly say that this job has taken me around the world. I have met so many wonderful people and been involved with so many fantastic experiences that this has made me appreciate everything that life has to offer.
How would you describe the NHS in one word? Inclusive.
Name: May Parsons
Job title: Modern Matron for Respiratory Services at University Hospitals Coventry and Warwickshire Trust (currently on secondment at Buckinghamshire Hospitals NHS Trust as Associate Chief Nurse)
When did you start in the NHS? 2003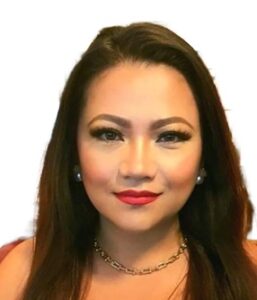 Why did you choose to work in the NHS? I started my nursing training in the Philippines in 1996 at the oldest existing university in Asia, University of Santo Tomas. I completed my Bachelor of Science in Nursing degree in 2000 and passed my Nursing Board licensure exam at age 19. I worked in my university's hospital after until I came to join the NHS in 2003 at University Hospital Coventry and Warwickshire as a theatre nurse. I have recently left my post as a Respiratory Services Matron in UHCW to join Buckinghamshire Healthcare Trust as Associate Chief Nurse for Governance.
What does NHS75 mean to you? The NHS is such an incredible service to our people and communities. The NHS is a national treasure that everyone cherishes and everything it stands for. For the last 75 years, the NHS has provided care to our population at the point of care without question and the phenomenal achievement of the NHS is truly worth celebrating. I feel fortunate to be a part of the NHS family whose main purpose is to deliver the best care possible to our people.
I was the first person to administer the COVID vaccine. It still feels like a dream and something that I did not ever anticipate or thought about. The immense privilege and honour have been overwhelming at times, but I also focused on ensuring that the platform coming out of it is put to good use: promoting and supporting the NHS, what it stands for and encouraging our communities to join the NHS family. I was able to represent the most amazing people within the NHS and that again is quite a huge responsibility but an utter joy to do, which I only hope I did them all justice.
What will you be doing to mark the occasion? I will be joining the celebration at Westminster Abbey to mark the 75th NHS Celebration along with other NHS colleagues to remember our purpose and achievements. I will also be remembering all our colleagues who has perished in service of our people.
What would you say to anyone considering a career in the NHS? I would say that to belong in the NHS Family is truly a great fulfilling feeling. Please have a look at the many careers that the NHS offers. The NHS gives plenty of career development and opportunities as well as providing you with a sense of fulfilment no other industry can equal.
Name: Liz Cathcart
Job title: Head of Staff Engagement and Wellbeing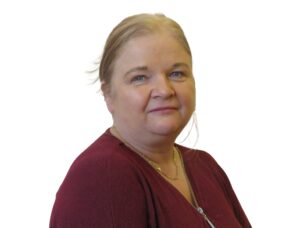 When did you start in the NHS? 1 August 1981
Why did you choose to work in the NHS? I was just 16 years old, left school and was looking for opportunities in the NHS. I'd always felt and heard that the NHS was a good place to start a career, little did I know I'd be here 42 years later.
Describe what you do in 100 words? I lead on the wellbeing of our staff, so manage our internal psychological support for staff, offer wellbeing days, promoting healthy lifestyles. I also look after Surveys, such as Staff Survey, People Pulse and do all I can, with my team to support staff and ensure they feel valued and appreciated in all they do. We hold yearly Quality Awards for staff and constantly promote our values, which are Compassion; Respect; Excellence; Collaboration and Integrity, running schemes such as values in action to embed the behaviours we live by.
What do you most enjoy about your role? Every day I feel I learn something new. My latest challenge was to support one of my colleagues during Ramadan, and I followed the abstinence of food and drink during daylight hours over a 5-day period. Again, this was yet another opportunity to truly embrace and learn about our wonderful diverse communities.
What would you say to someone thinking about a career in the NHS? Embrace all the opportunities that you have and have the courage to contribute your own ideas to make the NHS the best it can be.
How would you describe the NHS in one word? Life
Anything else to add? I'm reaching the end of my career now and looking to a retirement sometime in the next 12 months. But I can honestly say I wouldn't change any decision on my career moves and have myself developed and learnt so much from the amazing staff and our communities.
Thank you, NHS, for helping me develop my deep compassion for our staff and those we serve in our communities.
Name: Clive Moore
Job title: Estates Technician
Clive Moore has been a proud employee of the NHS for almost 48 years. He works at Derbyshire Healthcare NHS Foundation Trust as an Estates Technician, and he wanted to tell us about his years working for the NHS.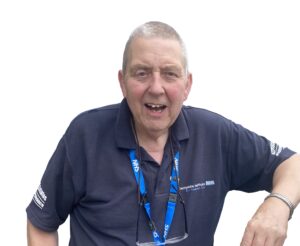 "After school I worked for a building company which was fine but in the 1970s, the building trade was struggling. I had always wanted to work in a hospital, I like caring for and helping people but also wanted a practical job. I contacted the NHS to see what jobs they had but at the time there were no apprenticeship that would have suited me, so after a little while I started working as a joiner for another company.
"Four years later, I couldn't believe it. Completely out of the blue I got a call from the NHS saying that a job had come up and I was welcome to apply for it, which of course I jumped at the chance. I started with the NHS in August 1975 in the Estates team here at Derbyshire Healthcare NHS Foundation Trust.
"It's a really interested job. At the beginning of my time with the NHS, we looked after multiple sites which were dotted around Derbyshire. We looked after Bretby Hospital, Makeney Hospital, ambulance stations, clinics all the way down to Swadlincote in South Derbyshire, and even some staff housing.
"My favourite site to work at was Bretby Hospital because the building was like a castle, the drive to it was lovely and it was fantastic to maintain a building like that. I also really enjoyed working at Makeney Hospital as its patients stayed long term, so you were able to build a rapport with them and enjoy each other's company while you worked.
"One of the projects I remember working on was helping provide patients on dialysis with the equipment they needed. Back in the day if you didn't have room in your house for all the equipment you needed, the NHS provided you with a portacabin to house it all. It was down to me and my team to maintain these constructions, so as you can imagine, this took us out and about all over the place.
"The NHS keeps me busy with work, but it also keeps me going physically. I have Parkinson's disease and a bad heart, so I have been on the receiving end of what the NHS can do, and it makes me so proud and thankful. Also, what I am physically able to do work wise over the years has changed, I can't do the amount of heavy lifting I once did, but the NHS and my team support me and I carry out other work such as inspections, metre readings, organise furnishings – carpets and blinds and so on.
"People sometimes ask me when I am going to retire, and to be honest my answer is always the same, I love my job and I want to keep working as long as I can add value. I have had no days off sick for a very long time, despite my health issues.
"The Trust is not just work for me. I do lots of activities in my spare time to help the Trust when I can. I love helping to organise the summer fayre, I fundraise for the League of Friends and for the Rainbow Hospice.
"I am also a magician and do this at various events to raise money for charities. I am part of a group of entertainers, we've worked together for 48 years and so far, we have raised £38,000 for charity. I am 68 and the youngest in the group, our oldest member is 91. I am the spring chicken!
"Even when I eventually retire, I will still be part of the team and the Trust as I will definitely want to carry on my fundraising work. My wife Jean is very much involved in fundraising as well, we make a fantastic team. Together we have won awards for our charity work, and we will carry on doing this for as long as possible.
"In my spare time, not that I have very much as you can tell, I enjoy going out for a real ale or two every couple of months with some of my old work mates. That's the thing about this Trust, we are more like a family. Lots of our staff have worked here for many years so we are more like family member than colleagues.
"I think the NHS is something to be really proud of, it is one of our greatest assets and fantastic to be celebrating its 75th year. Health is the most important thing we have, and the NHS has the greatest standards in the world. The NHS is made up of caring people and always puts patients first, no matter what their role in the NHS.
I have loved my years working for the NHS so far and look forward to as many more possible. If I'm honest, I would love to do another 45 years."
Thank you for sharing your story with us Clive.
Community Pharmacy stories
Easons Pharmacy
Easons pharmacy opened its doors in 1953 and has since been passed through generations of the Eason family. Today, Easons is a modern community pharmacy who pride themselves on the service and customer care they deliver. They are continuously adding to the services that are on offer and have recently extended their pharmacy to help accommodate the growing number of customers they serve.
It is led by Kieran Eason, grandson of founder Harry Eason. He said "My granddad worked as a pharmacist for 50 years, of which 37 were at his own pharmacy. At one point he owned three pharmacies, one of which he passed on to my father. My father has since been at Easons for 50 years and this year I marked my 15th anniversary.
"My proudest achievement so far has been obtaining my prescribing qualification. My father's proudest moment was when he rebuilt the pharmacy. The original building was across the road from its current location and when he was a child he lived upstairs.
"My father's biggest change has been computers – everything was handwritten when my granddad started and very occasionally an old customer will come in with a very old bottle with his writing still on the label. For me it's paperless dispensing and pharmacist prescribing, for my granddad it was the foundation of the NHS and the introduction of penicillin.
"What I most enjoy most about the job is the pace and variety. It is very busy, and I don't stop until the day ends. There is a lot to manage, staff, stock, buying medicines at the best prices, checking prescriptions, and advising patients. I see patients for conditions such as UTI's, tonsillitis, earache, impetigo and provide a microsuction ear wax removal service.
"We are one of the best performers in the area for the community pharmacist consultation service which supports patients getting a same day appointment at the pharmacy for minor illnesses. I'm currently working on improving our New Medicine Service offering before we roll out the new contraception service.
"I also like being on the upper end of the tech curve – we use a paperless dispensing system and have a 24-hour prescription collection locker. I'm currently working on an online appointment booking system and expanding my prescribing competencies. There's plenty to keep me occupied!
"We have a great local community. My father has seen some families through four generations. We also have some very long-standing members of staff, our longest serving employee has been here for 38 years. Both my father and I grew up in Tamworth and went to school here so know many of our patients through being locals ourselves.
"It is an honour to shine a light on the history on the history of Easons and our family of pharmacists for the NHS75 celebrations."
Jaysons Pharmacy
Award winning Jaysons Pharmacy was founded 38 years ago by father and son duo Jayantilal M Lakhani and Pharmacist Nitin Lakhani. Nitin's wife Sandhya N Lakhani joined the family business five years later making it a true Nottinghamshire family pharmacy.
Nitin, Superintendent Pharmacist said "We began as a sole proprietor with Youth Training Scheme (YTS) staff dispensing and labelling handwritten prescriptions.  Luckily typewriters and computer labels followed! We now have two branches, one in Long Eaton and another in Nottingham.
"Some significant changes over the years include the introduction of advising patients on long term conditions (LTCs) which back then was not thought of as a pharmacist's role, and supplying needles and syringes which was once illegal as it was thought to be encouraging drug use instead of encouraging safe use.
"Then came medication usage reviews, smoking cessation services, asthma inhaler checks, new medications usage, emergency contraceptives, Pharmacy First, flu and covid vaccinations, independent prescribing, eyes, ear throat and UTI services, warfarin monitoring, working in surgeries and now advanced clinical practitioner work. What a transformation in the last few decades.
"There are so many highlights I could share. Our proudest achievement was winning the National Training Award in 2007 for successfully introducing a management system that enables staff to think outside the box.
"What I enjoy most about the job is that it has a business and a clinical element. Recently as the range of clinical services has increased and the whole team at Jaysons are offering services at every level from healthy living advice to managing and identifying LTCs like Blood Pressure/AF and Independent Prescribing at the Pharmacy and at the local surgery.
"Both of our pharmacies are in the heart of the community. Some of the staff and ourselves have been here for so long that we know 3 generations of many families who use the pharmacy.
"We have been very fortunate to have been part of the community and see it develop and for us to have the opportunity to give a small lending help towards better health of the community."
Dean and Smedley
Dean and Smedley Pharmacy's Managing Director and Superintendent Pharmacist Lucy Dean shares how her pharmacy was founded in 1927 and evolved through the union of her grandparents marriage and lifelong partnership in business. Beginning as 'A A Dean' in 1927, by her great grandfather Arthur Alwyn Dean, 21 years before the NHS was born in 1948, the business has been in her family for 96 years.
She said "Dean & Smedley has its origins in the business of my great grandfather Arthur Alwyn Dean, who traded as "A A Dean". He bought an existing pharmacy on Horninglow Road in Burton in 1927. This is the same address as our present pharmacy and head office, although it has grown somewhat since A A Dean's day!
After the Second World War, the shop was taken over by his son and my grandfather John Dean who married a pharmacist who had been his apprentice. She had subsequently owned a pharmacy in Derby, trading under her own name as Joan Smedley, and when they married an amalgamation to form a Limited Company was decided upon. The obvious name was "Dean & Smedley Ltd" and this came into existence in 1946.
After my grandfather's passing in 1967 my grandmother continued to run the business. Their son and my father, Richard Dean, joined the business in 1971 and became Managing Director a few years later. After my grandmothers passing in 2008, I joined the company in 2009 and became Managing Director in 2019.
Over the years various businesses have been bought and sold. We currently have ten pharmacies within a 15-mile radius of Burton and also central distribution facilities.
The business has evolved so much over the years, and significant changes include medicines no longer being made up in the pharmacy, advances in technology, and introduction of new services.
At Dean and Smedley we are proud to have served our local communities for such a long period of time and of our loyal, hard-working staff, many of whom have been with us for well over 10 years. Our current longest serving member of staff has been with us nearly 40 years. Some, now retired staff, worked for over 40 years and one 50!
I enjoy the people I work with, the variety within my job and helping our patients. We have lots of regular customers and many of which there are multi-generations within them as well.  We strive to be the pharmacy of choice for the communities which we serve.
To provide high quality pharmacy, healthcare and related services in a way that builds strong and satisfying relationships with our customers, staff, shareholders and the local community. To commit ourselves to invest in the future of the company, the profession and healthcare.
All our pharmacies have consultation rooms which are used for a large variety of services for the benefit of our patients. We have a full complement of trained staff at all levels – Medicine Counter Assistants, Dispensing Assistants, Dispensing Technicians and checkers and Accuracy Checking Dispensary Assistants and Technicians – to enable our pharmacists to best use their time.