Compassion in Practice – our culture of compassionate care
Compassion in Practice is the three year vision and strategy for nursing, midwifery and care staff drawn up by Jane Cummings, the Chief Nursing Officer for England (CNO) at the NHS Commissioning Board, and Viv Bennett, Director of Nursing at the Department of Health.
It was launched at the CNO annual conference in Manchester on 4 December 2012 following an eight week consultation with over 9,000 nurses, midwives, care staff and patients.
Compassion in practice – nursing, midwifery and care staff – our vision and strategy
Compassion in Practice: Two years on
The latest report on the progress made so far was launched at the 2014 CNO Summit 25-26 November 2014. Called Compassion in Practice: Two years on, the report includes a foreword from Jane Cummings and talks how the values of the 6Cs are spreading across health and social care and informing the commissioning process, along with the important role Care Makers play in bringing the vision to life.
Download the report here: Compassion in Practice: Two years on
Compassion in Practice, the national strategy for nurses, midwives and care staff, was launched in December 2012. Since that time, a significant programme of work through six action areas has created a momentum across the country which has recognised the very crucial role that organisational culture plays in determining the experience of patients and users of our services.
Building and Strengthening Leadership report
Caroline Alexander, the Chief Nurse for NHS England (London region), is the Senior Responsible Officer (SRO) for Action Area 4 of the Compassion in Practice strategy: building and strengthening leadership. Caroline brought together nurse leaders from across the country to discuss and identify key issues related to leadership. This group highlighted the need to describe what compassion in leadership and compassionate leadership looks and feels like in practice and how a model of compassionate leadership could be recognised and implemented.
The result was a report and accompanying field guide available which considers the international literature and evidence base and highlights examples of tangible and recognisable leadership/leaders that 'role model' compassion. This work, while building on the body of knowledge, expertise and experience of recognised compassionate leaders in nursing and health care, offers fresh insight and perspective into how effective leadership impacts on care and outcomes.
Introducing Compassion in Practice
This short film introduces Compassion in Practice, the new vision for nurses, midwives and care staff and provides an overview of the 6Cs. It was first shown during the Chief Nursing Officer for England's Conference on 4 December 2012.
Compassion in Practice implementation plans
Nurses, midwives and care staff, as well as stakeholders at national and organisational level, developed implementation plans to support the delivery of the values and behaviours of the 6Cs.
The implementation plans are part of 6Cs Live!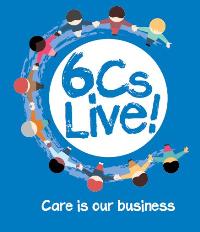 Look out for the logo, get involved and make a difference to the patients and people you care for. Each and every one of us can make a difference. 'Care is our Business.'
You can find more information in the implementation plans area.
Find out the history of 6Cs Live!
Download 6Cs artwork for printing professionally or in-house
The 6Cs artwork is designed to have a consistent look across the NHS in England. It is designed to deliver the 6Cs key messages and the artwork is supplied in both pdf and jpeg format.
NHS England authorises UK healthcare organisations to use this materials for educational and non-commercial use.
Content and designs should not be edited, amended or altered.
Putting the vision and strategy in to practice
These charts demonstrate how the 6Cs will contribute to high quality, compassionate and excellent health and wellbeing outcomes for people in a range of settings.
Culture of Care Barometer
The Culture of Care Barometer report, launched in March 2015, was developed from the early discussions of a group of professionals, carers and managers, who were so perturbed by the failings at Mid Staffordshire Hospital that they were determined to explore what could be done to improve the quality of care for patients. As a result, the first early blueprint of a tool to measure the culture in care organisations was developed. Find out more about the culture of care barometer.