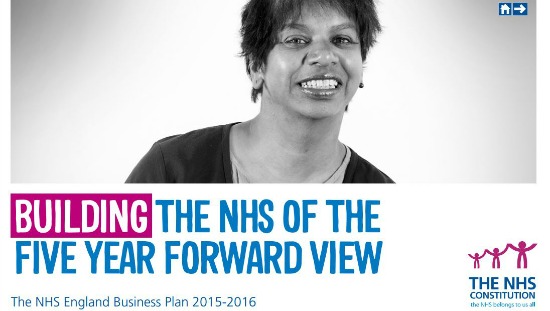 Building the NHS of the Five Year Forward View – NHS England Business Plan 2015/16
We have published our business plan for 2015/16, setting out our priorities for the coming year.
Building the NHS of the Five year Forward View – NHS England Business Plan 2015/16 (also available in easy read format), describes our headline goals and priorities to ensure both high quality care for the people of England and efficiency for the taxpayer. The priorities are chosen to deliver the main themes of the Government's mandate, while advancing the agenda the NHS has set for itself in the NHS Five Year Forward View.
For 2015/16 we will focus on 10 priorities to both improve quality and services, to drive better value for money, and to build the foundations for the future health and care system.
The 10 priorities are:
Improving the quality of care and access to cancer treatment
Upgrading the quality of care and access to mental health and dementia services
Transforming care for people with learning disabilities
Tackling obesity and preventing diabetes
Redesigning urgent and emergency care services
Strengthening primary care services
Timely access to high quality elective care
Ensuring high quality and affordable specialised care
Whole system change for future clinical and financial sustainability
Foundations for improvement
The business plan commits to engage with our diverse communities and citizens in new ways, continuing to involve them directly in decisions about the future of health and care services, and putting citizens at the centre of the design process of NHS services and for new care models.
For 2015/16 the revised Government mandate allocated an extra £1.83 billion to NHS England – this, along with a further £150 million of reallocated resources, has resulted in a total of £1.98 billion for frontline services. The business plan describes how the increased financial settlement will help to kick start the investment needed to create new care models and further invest in primary care.
We will work with partners throughout 2015/16 to close the gap between the least and most efficient services, realise productivity gains through technological advancement and implement preventative approaches and new care models. We will build on existing work to use data and technology more effectively, encourage and invest in the benefits of innovation and science, such as Genomics, and build capacity and capability across health and care systems.