Reducing healthcare inequalities using population health management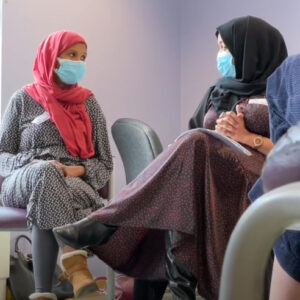 Over 10,000 people at high risk of health deterioration have been identified for extra help and support to stay well and independent thanks to the National Population Health Management Programme.
Running for over three years, the Population Health Management Development Programme has supported thousands of health and care professionals including commissioning and service improvement teams, to adopt a population health management approach to address health inequalities in their area.
Equipping participants with the leadership, knowledge and skills to use data and analysis to inform decision-making, the programme has helped 40 Integrated Care Systems across the country to design proactive models of care which meet the needs of their local population and address the wider determinants of health.
Using joined up information from across health and care partners to understand which factors are driving health inequalities within different population groups, population health management provides an opportunity  for the NHS to work together with public services including councils, the public, schools, fire service, voluntary sector, housing associations, social services and police, to tackle the underlying causes of ill health.
Many examples of good practice have emerged from the programme including:
Over 100 people at risk of heart failure living in deprivation in inner city Bristol being offered medication reviews
People living in the more deprived areas of the Bristol, North Somerset and South Gloucestershire Integrated Care System are more likely to die earlier and on average have 10 fewer years of good health. By using new techniques such as segmentation and risk stratification the ICS found 100 people aged 40 to 69 living in high levels of deprivation in Bristol inner city, who also had a combination of obesity, high blood pressure, depression and anxiety. These patients were offered a medication review, a healthy hearts group consultation and an appointment with a social prescriber to help with exercise, mental health and lifestyle issues.
South Asian communities in East Milton Keynes supported to better manage their diabetes
Analysis pinpointed poorer diabetes management and higher risk of cardiovascular disease in South Asian communities in East Milton Keynes. Rates were also higher among those working in unskilled jobs and those without employment. The primary care network offered advice from the Wellbeing team, including information on diet, nutrition and exercise as well as culturally informed cooking sessions, free gym membership and use of community facilities including local allotments. People were encouraged to monitor their weight and diet by directly inputting to their medical records using a health app.
Addressing wider determinants of health for those with multi-morbidities including depression in the North East and Cumbria
People with depression, at high risk of becoming unwell due to a chronic physical health problem were contacted to explore if there were wider issues impacting their health. Thirty-four individuals were identified and given early support by a social prescribing link worker to help them address issues with finance, housing and social isolation. Help was also available to support people stop smoking and access physical activities and weight management services to improve their wellbeing including their cardio-vascular health.
You can read more about these, and other projects supported by the programme by signing up to the Population Health Management Academy on FutureNHS.
Anne Wray, an advanced nurse practitioner who co-led a population health management project for Bristol Inner City Primary Care Network, said: "Locally we have a number of health inequalities and this project really helped us get to the most vulnerable. People were very pleased to have someone reach out and try to help – it's so motivating as a nurse to know that we can use data to actively try and help people before their health has already declined. To know we are adding many years of health to people's lives really motivates a team."
Speaking about the Programme, Bev Evans, Head of Population Health Management for NHS England, said: "Addressing health inequalities is everybody's business. The COVID-19 pandemic highlighted the widening gaps in our communities but population health management is actively helping to prevent this from worsening.
"Using this approach, we can identify communities and individuals impacted by health inequalities including people struggling to access services, those living in areas of high deprivation or belonging to inclusion health groups and individuals at high-risk of developing life-threatening conditions.
"By supporting these individuals sooner and more effectively we can reduce the possibility of them becoming unwell and improve their health and well-being in the long run. Essentially, we want to help those most vulnerable people in our society to live longer and have more years in good health.
"Population health management is one of 10 priorities systems are being asked to focus on over the next year and we are committed to working with local councils and voluntary community and social enterprises through systems to develop our approach, prevent ill-health and address health inequalities.
"One of the ways we plan to do this is through the Place Development Programme which will follow on from the Population Health Management Development Programme which ends later this year. Funded and led by NHS England, in partnership with the Local Government Association, the Place Development Programme is available to all 42 Integrated Care Systems (ICS) in England and aims to accelerate and embed population health management within local operating models.
"Rooted in action learning, the programme will equip participating Places with practical tools, techniques and approaches that embed and deliver effective population health management. It has been designed to complement the ongoing NHS England Population Health Management Development Programme and presents an opportunity for creating real change on the ground through understanding and addressing the causes of ill health."
Find out more about the Place Development Programme: Place Development Programme – Population Health Management Academy – Integrated Care (future.nhs.uk)