Posts by Professor Nick Linker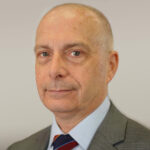 Professor Nick Linker is National Clinical Director for Heart Disease, NHS England, Chair of the Cardiac Services Clinical Reference Group, consultant cardiologist at South Tees Hospitals NHS Foundation Trust and Honorary Professor at Teesside University. He leads on the implementation of the NHS Long Term Plan for heart disease and development of heart disease policy for Specialised Commissioning. He is clinical lead for the Cardiac Pathways Improvement Programme and has responsibility for the national cardiac registries.
He trained in Manchester Royal Infirmary and St George's Hospital, London and was appointed as a consultant cardiologist with an interest in cardiac electrophysiology in 1998. His clinical practice is focused on arrhythmia and syncope management and cardiac implantable electronic devices.
Professor Linker was President of the British Heart Rhythm Society and Honorary Secretary of the British Cardiovascular Society (BCS). He was integral in developing UK standards for cardiac implantable electronic devices, electrophysiology and lead extraction and developed guidelines on MR scanning in patients with cardiac devices, peri-operative management of cardiac devices and end of life care pathways for cardiac device patients.