The 10 Commitments – Professor Jane Cummings
The Chief Nursing Officer for England reflects on 'Leading Change, Adding Value' the nursing, midwifery and care staff framework she launched earlier today that encourages them to help transform the health and care sector:
I am delighted to lead the next phase of development for nursing, midwifery and care staff in England through  the 'Leading Change, Adding Value' framework.
I am also immensely proud of what we achieved together in the past three years through 'Compassion in Practice', our strategy for nursing, midwifery and care staff that concluded in March this year.
'Compassion in Practice' has been instrumental in enabling us to build public confidence in our profession during some difficult years, and restoring our pride. Our focus on safety, transparency, culture and standards has led to many improvements.
One of the great legacies created through 'Compassion in Practice' is the 6Cs and we have proved our value by embedding them in everything we do.
Following feedback, they remain the foundation of 'Leading Change, Adding Value' because, as compassionate care flourishes and its beneficial impact is seen and felt widely by individuals and populations, we must never be complacent. As our work changes, our values must remain aligned, recognised and understood.
Over the past three years we have not only demonstrated how effective we are when we work together but how adaptable we are. This is a great strength and, over the past ten months, we have developed the new framework that will help us all to understand what we need to do to meet current and future challenges.
Thousands of people helped us develop 'Leading Change, Adding Value'. Staff, carers and patients engaged in debates and conversations. Senior nurse and social care leaders across many NHS and social care organisations, professional bodies and academia have also been key partners. I thank everyone for their contribution.
The Five Year Forward View sets out the way to put our health and care services on to a more sustainable financial footing, with the right changes, the right partnerships and right investments. This understanding has contributed to the creation of the framework I launched today, which positions all nursing, midwifery and care staff, whatever their role or location, as leaders who will shape the actions needed to meet the challenges of today as well as leading and shaping the health and care landscape of the future.
'Leading Change, Adding Value' is about a number of related points:
It is about aligning our efforts so we use our leadership to narrow the gaps that exist in relation to health and wellbeing, care and quality and funding and efficiency described in the Five Year Forward View.
In order for us to close these gaps we need to focus on working with unwarranted variation. This helps us understand the differences in how services are delivered and the outcomes achieved. Working with information is vital, as is measuring, monitoring with peers, and working to secure and demonstrate improvements.
It is about measuring what matters and using the 'triple aim' measures of better outcomes, better experiences for people and better use of resources to do this. Evidence tells us that these measures are the way we truly demonstrate impact as individuals, teams and whole systems
It offers ten commitments which can be applied by everyone. If we focus on these commitments, apply them locally and support them nationally, they will lead us to not only understand where variation exists but will support us to apply best national and international practice that helps us on the journey to quality improvements.
Everyone can influence and lead improvement whether in the 3,500 care homes, supporting the million people every 36 hours who are treated in NHS funded services or when working in academia, policy development or management.
'Leading Change, Adding Value' encourages us all to reach further, as individuals and collectively, but to do this we need to focus on what is important and connect with each other so we achieve more for the people we serve and for our professions.
I look forward to working with you on putting 'Leading Change, Adding Value' into action, realising our phenomenal potential and evidencing the impact we make.
---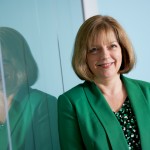 Jane Cummings is the Chief Nursing Officer for England.
Before progressing into general management she was previously a nurse specialising in Emergency Care and has held a wide variety of clinical and managerial roles including Director of Commissioning, Director of Nursing and Deputy Chief Executive.
In February 2004, she became the National Lead for emergency care which involved working closely with clinical colleagues and NHS managers to agree and implement the 98% operational standard. She has also worked as the nursing advisor for emergency care, and with the Royal College of Nursing to develop the role of nurses and improve the experience and care of patients requiring urgent and emergency care.
Jane moved to NHS North West in November 2007 where she held executive responsibility for the professional leadership of nursing, quality, performance, QIPP and commissioning. In October 2011, she was appointed the role of Chief Nurse for the North of England SHA Cluster.
She began the fulltime position of Chief Nursing Officer for England in June 2012 and is the professional lead for all nurses and midwives in England (with the exception of public health) and published the '6Cs' and 'Compassion in Practice' in December of that year.
Jane is the NHS England national director sponsor for the programme to transform care for people with learning disabilities and chairs the delivery board. She is also the lead national director for maternity.
Jane was awarded a Doctorate by Edge Hill University and is a visiting professor at Kingston University and St George's University, London.
She is also a trustee for Macmillan Cancer Support and a clinical Ambassador for the Over the Wall Children's Charity where she volunteers as a nurse providing care for children affected by serious illnesses.