As part of a broader package of support, the General Practice Forward View is committed to improve access to mental health support for general practitioners and trainee GPs who may be suffering from mental ill-health and addiction.
The NHS GP Health Service was launched on the 30 January 2017, with  The Hurley Clinic Partnership as the provider of this service.
The service is an important part of our commitment to help retain a healthy and resilient workforce and in supporting GPs and GP trainees who wish to remain in or return to clinical practice after a period of ill health.
GPs and GP trainees considering accessing the NHS GP Health Service are encouraged to access the new website:
What does the service look like?
It is a free, confidential service provided by health professionals specialising in mental health support to doctors.
It is accessible via a confidential national self-referral phone line, website and app, enabling GPs and GP trainees to seek information about the services available, access self-help tools, and access clinical support.
Treatment services are available in all 13 localities across England, with local delivery supported through a local lead.
There is a range of clinical support, accessible across England with GPs and GP trainees free to choose the most suitable locality which matches their needs.
There is a choice of different premises across local services to enable ease of access, with the confidence of anonymity to minimise risk of meeting colleagues or patients.
Who can access the service?
Any general practitioner or GP trainee who is registered on the National Performers List in England.
Any GP or GP trainee who is looking to return to clinical practice after a period of absence.
How can the service be accessed?
When it is operational, GPs and GP trainees will be able to access the service in a number of ways:

By calling the dedicated helpline number with access to trained and experienced handlers
Online by email, via the website or by a smartphone App.
Following first contact, GPs and GP trainees will be able to consult with an experienced clinician within their locality or if they prefer, they can see a clinician in another area – anywhere in England.
GPs will also be able to have consultations via video calls i.e. Skype and FaceTime at their convenience/preference.
Is the service self-referral only?
The service is self-referral only.  Other organisations or colleagues may signpost GPs and GP Trainees to the NHS GP Health service, but the service will not accept referrals from any third party; the GP or GP trainee must self-refer themselves to receive support.
Where will the services be located?
The service are available within each of the 13 NHS England local team areas.  Within each area there is a network of clinicians which can be accessed at  a range of different sites and clinicians.  The map below shows these areas across England.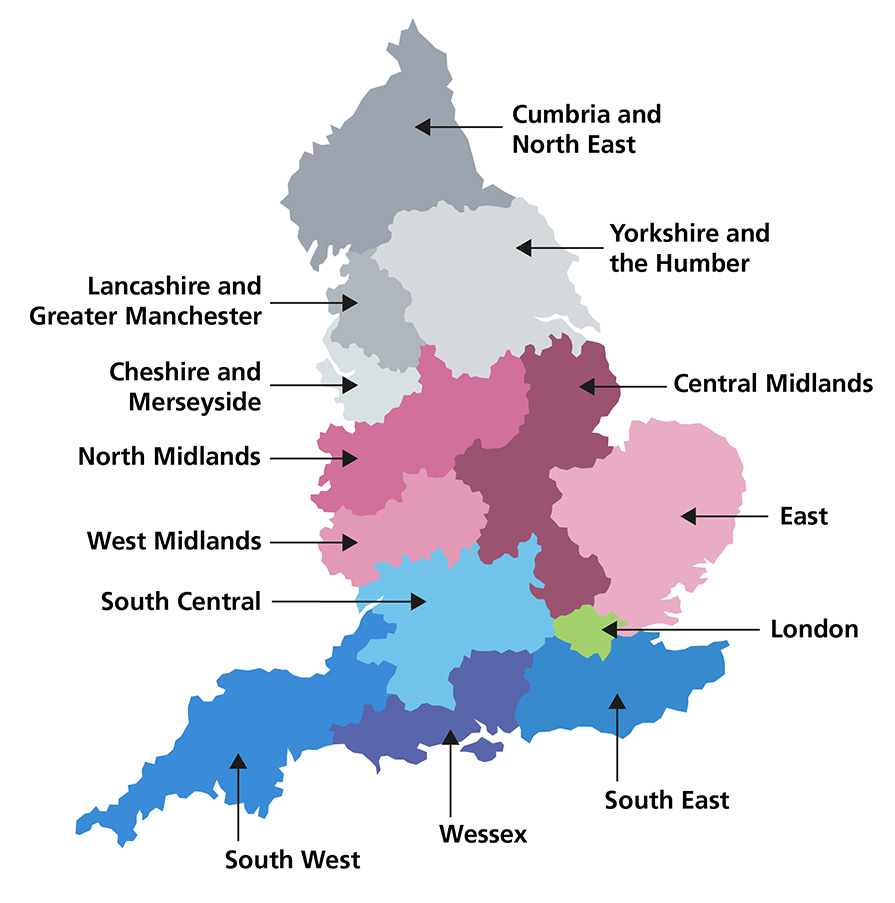 How can a national service provide a locally sensitive service?
NHS England will work closely with The Hurley Clinic Partnership to ensure that GPs and GP trainees can expect a locally sensitive service.  This includes safeguards to ensure confidentiality are strictly maintained, with only the clinicians directly involved in a GP or GP trainees support has access to any information or records kept by the NHS GP Health Service.
What sort of services can GPs and GP trainees expect?
The NHS GP Health service will help GPs with:

Common and more complex mental health conditions
Mental health conditions relating to a physical health issue
Substance misuse including support for community detoxification
Rehabilitation and support to return to work after a period of mental ill-health.
Some examples of the support available through this service are:

General psychiatric support and treatment (face-to-face)
Support for addiction related health problems (face-to-face)
Psychological therapies, e.g. Cognitive Behaviour Therapy (CBT) (face-to-face or via Video Technology/Call
Brief psychotherapy
Group therapy including reflective practice groups
Local group addressing specific areas (for example, suspended doctors, addicted doctors or specific issues affecting mental health in a particular area).
The service will adopt a  holistic approach  to providing support to GPs by  signposting to other services where necessary for example:

Financial and personal support
Support in relation to regulatory/performance issues
Legal/Indemnity support
Support to return to clinical practise.
How much funding is available for this service?
The General Practice Forward View has committed up to £19.5 million available over five years for the GP Health service.
How does this service link to wider NHS England plans for general practice?
The GP Health Service programme supports GP workforce plans to recruit more GPs, retain the GPs we have and supporting those that wish to return to practice, working with Health Education England (HEE), the Royal College of General Practitioners (RCGP) and the British Medical Association's (BMA) General Practitioners Committee (GPC).
Key Partners in development of the service:
NHS England is grateful for the ongoing support of the following partners who have contributed to the development of the service specification and overseen the programme.  We look forward to continuing to work with our partners alongside The Hurley Clinic Partnership, including:
NHS England would also like to acknowledge the various stakeholders who have contributed their time and expertise through the various stakeholder meetings / events / focus groups as well as the different providers who have contributed to the development of the service specification during the market engagement.  We will work in partnership with both national and local services in ongoing development of the service.