Download a copy of the Support and Resources Guide 2015/16
Patient Online is an NHS England programme designed to support GP practices to offer and promote online services to patients, including access to coded information in records, appointment booking and ordering of repeat prescriptions.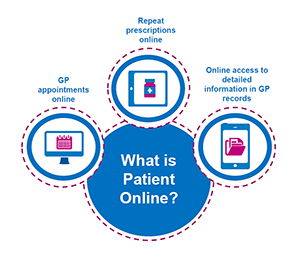 Patients have been telling us that they are ready and want to take more control of their own health and wellbeing. Digital technology has the power to change the relationship between patients and their GP practice, just as it has changed our relationships in other walks of life, such as managing our finances or shopping. It can make services more convenient, personal and efficient.
The NHS's ambition is to embrace technology as part of its drive to offer modern, convenient and responsive services to patients, their families and carers. GP practices are leading the way.
Today, the majority of GP practices already offer online services, including appointment booking, ordering of repeat prescription, and access to summary information in records. GP practices will increasingly expand online services over the next year. By April 2016, online patient records should include coded information on medication, allergies, illnesses, immunisations and test results.
Online services will be offered in addition to the traditional telephone and face-to-face means of interacting with a GP practice.
The Patient Online programme has updated their interactive Support and Resources Guide to help GP practices implement their GMS/PMS regulations for 2015-16. These include online booking of appointments, ordering repeat prescriptions and by the 31st of March 2016, access to detailed coded information held in patients' records. The guide includes updated guidance and practical tools for practices, links to RCGP guides, materials for patients, FAQs, case studies as well as regional and local support arrangements. It also offers clarification of pertinent issues such as proxy access and coercion.
NHS England is also supporting practices to deliver these commitments by:
working closely with clinical and non-clinical GP practice staff and professional organisations to develop guidance and training materials for GP practices
working with GP practices to make sure that staff have access to the guidance, tools and information they need
putting practices in touch with those who are already successfully offering online services
supporting a number of 'accelerator sites' to lead the way in demonstrating how online services may help patients and GP practices
Together with our stakeholders, we will:
listen to patients and involve patients throughout the programme, ensuring we respond to their needs
develop new ways of working which will make it easier for patients to access GP practice services online
develop guidance for patients to ensure they can easily use the online services available to them
We will update this website as our work progresses.
In the meantime, we would like to hear about your experiences to date and listen to your views. We are committed to working and engaging with patients, carers, healthcare staff and the public. Your views are essential for creating and delivering better health and care services.
Please get in touch: england.patient-online@nhs.net, or have a look at our frequently asked questions.