National Commissioning Flows
The National Commissioning Flows work includes a number of projects that will enable the healthcare system to streamline and, in some cases, reduce the high volume of local data flowing directly between providers and commissioners.
We are focusing our resources in three key areas:
Together, these projects will support commissioners' access to nationally-consistent, high-quality intelligence; facilitate the development of enhanced commissioning intelligence and metrics, and reduce local data processing burden, freeing up analytical resource to undertake more valuable and sophisticated analysis.
We know that some variation in local flows will always exist in order to meet truly local intelligence requirements. This work stream will encourage standardisation of local data at source wherever possible, while also investigating national solutions that can quickly deliver the standard analytical requirements of commissioners.
The diagram below shows how the three key areas are underpinned by National Commissioning Flows work packages.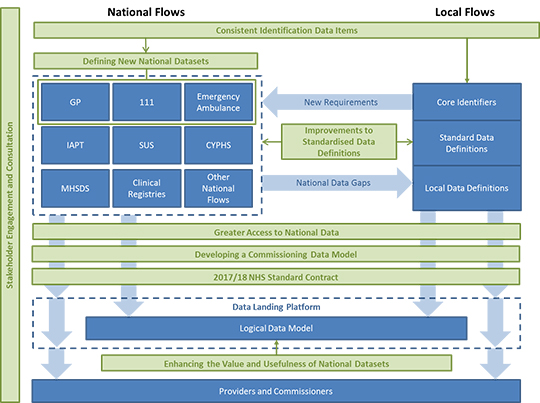 Improving National Datasets
We are supporting greater access to national data by:
Prioritising the national datasets that commissioners need to access;
Establishing appropriate approvals for data processors (currently the Data Services for Commissioners Regional Offices) to receive extracts, and;
Making sure authorisations are in place for their dissemination to commissioning analysts.
View the current list of datasets being prioritised for access and respective status updates.
We are working with stakeholders to identify additional and emerging requirements with which to enhance existing datasets and support their future inclusion in national specifications and the NHS Data Model and Dictionary.
There are a number of key service areas where national data does not yet exist. We are supporting the definition of several new national datasets to fill these gaps in the commissioning intelligence landscape; these currently cover 111, emergency ambulance and GP data.
Developing a Data Model for Commissioning
We have worked with a range of stakeholders to develop and publish conformed specifications to support the local collection of consistent urgent care, mental health and community data. Taking the learning from this work forward into 2017/18 and beyond, we will be developing a range of products to continue supporting providers to conform at source, as well as mapping remaining local flows to consistent data definitions to populate a single data model for commissioning.
We are proposing the inclusion of nationally consistent key patient and event identifiers in all patient-level data flows to ensure the accurate and anonymous linkage of individuals within commissioning datasets, and to support the derivation of consistent attributes. This will also support the development of a common commissioning pseudonym, adherence to the Information Commissioner's Office Anonymisation Code of Practice and the improvement of data linkage and commissioning analysis.
These Consistent Identification Data Items (CIDIs) comprise of data items that exist within the majority of national data flows and are all described in the NHS Data Model and Dictionary. We expect to publish CIDIs as a new information standard from 2017 and are currently progressing this through the Standardisation Committee for Care Information process (SCCI2210).  The current proposed list of CIDIs can be accessed below.
We will develop a commissioning data model to enable consistent analysis. This model will draw on data from a range of local and national sources and output to meet the analytical requirements of commissioners.
Population of the model will depend on the use of standardised data definitions to be submitted directly by providers or mapped from local returns. Wherever possible, these will be based on the NHS Data Model and Dictionary, and will involve the development and publication of new definitions where necessary.
Communicating the Ambition for National Commissioning Flows
Getting input from providers, commissioners and their support organisations is critical to National Commissioning Flows' efforts to increase the conformance of data within and between local healthcare systems. DSfC will provide increased opportunities for stakeholder engagement and consultation to help shape National Commissioning Flows' products so that they are fit for purpose and can deliver real benefits to commissioning informatics. Where relevant, these deliverables will then be referenced in the 2017/18 NHS Standard Contract to support their implementation across the commissioning system.