Posts by Kate Davies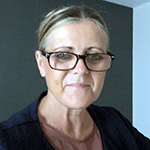 Kate Davies CBE, Director of Health and Justice, Armed Forces and Sexual Assault Services Commissioning, NHS England.
Kate is the national director for healthcare services across England for Armed Forces serving personnel, veterans and their families; sexual assault referral centres (SARCs); and prisons, immigration removal centres and secure children's homes and training centres. Her national role is to assure high quality, consistent and sustained services with a strong focus on health inequalities and outcomes for patients and their families.
Kate has developed and led national partnership agreements with the Ministry of Defence for Armed Forces commissioning, the Ministry of Justice for prisons and the children and young people secure estate and the Home Office for immigration removal centres. These agreements focus on core objectives and outcomes across Government for key patient areas that can only be delivered in partnership.
From a health and justice perspective, she has led the development of the national Liaison & Diversion Programme and Street Triage, the roll out of community sentence treatment requirements and the launch of RECONNECT to support prison leavers transition to community health and wellbeing services. Kate has facilitated the roll-out of increased provision for survivors of sexual violence, the launch of the Strategic Direction for Sexual Assault and Abuse Services and the development of enhanced sexual assault and abuse pathfinder services for individuals with complex trauma mental health needs.
Prior to her current role, Kate worked in a range of senior positions, including the Executive Lead for Prison, Detainee and SARCs Healthcare Commissioning for East Midlands; the strategic director of the award-winning Nottinghamshire County Drug and Alcohol Action Team, where she co-ordinated and delivered the Government's National Drug Strategy; and the Director of Black and Ethnic Minority Community Engagement at the University of Central Lancashire, International School for Communities Rights and Inclusion. This follows her early career, when she worked as a probation office in the probation service.
In addition, Kate has been a Non-Executive Director on the National Treatment Agency Board and a member of the Government's independent Board for the Prison Drug Treatment Strategy Patel Review, which implemented the Substance Treatment Service and strategy and delivery across England. She has also been an Ambassador for Diversity in Public Appointments for the Government Public Appointments Commission.
Kate's strong leadership style and commitment to lived experience, co-production and addressing health inequalities, has led to her being awarded an OBE in 2009 for services for disadvantaged communities and a CBE in 2018, for her work to improve services for some of the most vulnerable groups. She is also an Honorary Doctor of Staffordshire University in recognition of her commitment to health and social equality.