Posts by Thomas Whitelaw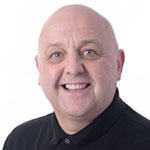 Thomas Whitelaw is the UK Project Engagement Lead – Dementia Carer Voices.
For five years he was a full-time carer for his late mother, Joan, who had Vascular Dementia, and in 2011 Tommy undertook a walk around Scotland's towns and cities to collect hundreds of life story letters detailing the experiences of individuals caring for a loved one living with dementia.
Since then, he has engaged with thousands of carers through his 'Tommy on Tour' blog and as UK Project Engagement Lead with the Health and Social Care Alliance's Dementia Carer Voices Project, conducting frequent talks to health and social care professionals and carer organisations across Scotland, to raise awareness of the impact of dementia on families and the importance of empowering carers in carrying out their difficult but vital role.
Tommy's passion for his work and the Dementia Carer Voices Project has not gone unnoticed. He was the winner of the 'Age Scotland Jess Barrow Award' in 2013; Finalist Campaigner of the year 2013 for 'The Herald Scottish Politician of the Year Awards', won the NHSGGC Chairman's Ambassador Award 2013 and in 2015, Tommy was awarded the 'British Citizen's Medal for Services to Healthcare' in recognition of his work to raise awareness of dementia and promote a fuller understanding of the carer journey.
Tommy was shortlisted as a finalist for the Kate Granger awards 2016 and received an Honorary Master of the Open University for Health, Social Care, Education and Policy making influence.
Groups and boards Tommy represents the project and the ALLIANCE on are: Fair for all Board Member North Ayrshire Council, Girvan Community Hospital Dementia Friendly Steering Group Member, Member of Scottish Government Dementia Strategy 2016-2019 Expert Advisory Group and NHS Education Scotland Promoting Excellence Dementia Programme Board Member.