Theatres and pop-up university
Theatres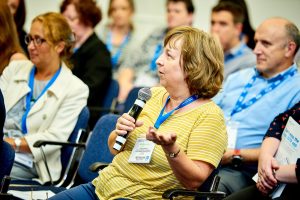 The four theatre rooms at Health and Care Innovation Expo are flexible, quiet spaces ideal for collaborative exploration of a single key topic or work area.
Some of our theatre sessions are open only to an invited audience, while others are open for any delegate to book a place.
When making your application to lead a theatre session, it is important to make clear how you will engage with your audience in a meaningful way, and how this engagement will be used to support the implementation of NHS Long Term Plan priorities.
To secure a session in one of the four Expo theatres, teams must demonstrate:
High-profile speakers and respected professional experts
In-depth exploration of a defined area for development identified by the NHS Long Term Plan
Clear strategies for meaningful engagement with the audience and incorporation of their feedback in future development work
Pop-up university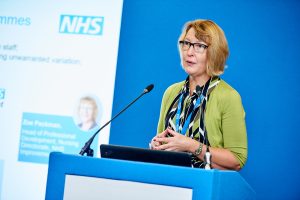 Pop-up university workshops take place in smaller rooms separate from the main conference hall, seating a maximum of 60 people.
These sessions allow a bite-sized introduction to a single area of improvement practice, and aim to equip attendees to make similar improvements in their own teams and organisations.
Sessions are 60 minutes in length and panels should comprise no more than four people. There should be at least 15 minutes dedicated to audience interaction and Q&A.
To secure a session in one of our eight pop-up university rooms, teams must demonstrate:
A clear focus on a single area of improvement practice that can be replicated across other organisations and specialties.
Where possible, inclusion of panel members from two or more teams and/or partner organisations who are collaborating to deliver improvement
Clear learning outcomes for attendees
Clear plans for "take away" learning materials for attendees