Theatres and pop-up university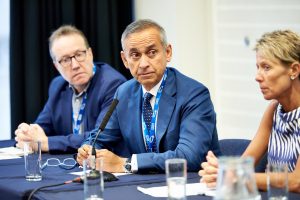 The four theatre rooms at Health and Care Innovation Expo are flexible, quiet spaces ideal for collaborative exploration of a single key topic or work area.
Some of our theatre sessions are open only to an invited audience, while others are open for any delegate to book a place.
There will be around 80 sessions across our eight pop-up university rooms, and booked places for all of these workshops are available to all delegates.
You can find full details of all theatre sessions and pop-up university workshops in our interactive agenda.
You must book to attend theatre sessions and pop-up university workshops. Our most popular sessions fill up fast so register now for Expo 2018 and select your sessions, or if you are already registered log back into your account to make your bookings.
Theatre sessions for Expo 2018 include:
How well do people move through the health and social care system? Findings from CQC local system reviews
Leading Change, Adding Value
Finance, Control Totals and Clinical Improvement
Leapfrog – how Global Digital Exemplar Blueprints can accelerate your transformation
The 100 year life: improving health and care through design, housing and planning
Pop-up university sessions at Expo 2018 include:
Identifying and tackling sepsis in healthcare
Patient safety: lessons from maternity
How to drive improvement in mental heath: sharing learning to increase your rating
Physician Response Unit – Bringing the Emergency Department to the patient
The "Innovation Exchange": proven solutions to health challenges
Using the Model Hospital to improve productivity
Frailty – reducing the risks: locally led improvements in care across an STP using NICE guidance and resources
All you've ever wanted to know about adult social care but were too afraid to ask
Applications to lead Theatre and Pop-up University sessions at Expo 2018 are now closed. To express an interest in leading a session at next year's event, please contact the Expo team at england.expo@nhs.net.