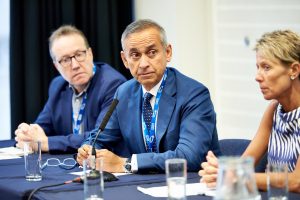 The four theatre rooms at Health and Care Innovation Expo are flexible, quiet spaces ideal for collaborative exploration of a single key topic or work area.
Theatre sessions can be up to two hours in length, and provide opportunities for shared discussion and in-depth reflection. They are excellent forums for networking across professions and key work areas. They also provide a great way for the most senior leaders to interact with staff groups, as part of a varied and in-depth programme of discussion and learning.
Theatre sessions can be restricted to private invitation lists or open for all attendees, and they take place in rooms close to the main exhibition floor, accommodating up to 160 people.
Applications are now open for bids to lead a theatre session at Expo 2018. All applications will be assessed by the Expo team with support from our network of stakeholders. The application period will close on 27 April 2018, and all applicants will be contacted with results of their application by the beginning of June 2018.
You can view details of our Expo 2017 theatres here