West Yorkshire and Harrogate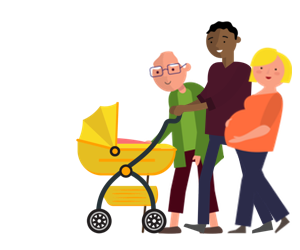 Region: North East and Yorkshire
Population: 2.5 million
Find out more about West Yorkshire and Harrogate integrated care system (ICS) including details of its population size, constituent organisations and priorities.
Priorities
Increasing the one-year survival rate for all cancers to 75%, potentially saving around 700 lives each year.
Sustaining and further improving A&E performance
Implementing the local service framework for mental health,
including:
– a 40% reduction in unnecessary A&E attendance
– a zero suicide approach to prevention
– a 50% reduction in out-of-area placements for nonspecialist
acute care
– a reduction in waiting times for autism assessment
Improving access to general practice at evenings and weekends.
Further improving the stroke pathway from prevention to recovery to support an ambition to reduce cardiovascular events by 10% by 2021.
Reducing the number of people at risk of diabetes as a result of obesity; reducing the number of alcohol-related hospital admissions by 500 a year, and reducing smoking prevalence.
Constituent organisations
The following organisations are part of West Yorkshire and Harrogate ICS. For individual contact details for these organisations, please see the NHS website.
Airedale Foundation Trust
Airedale, Wharfedale and Craven CCG
Bradford City CCG
Bradford District Care Foundation Trust
Bradford Districts CCG
Bradford Metropolitan District Council
Bradford Teaching Hospitals Foundation Trust
Calderdale and Huddersfield Foundation Trust
Calderdale CCG
Calderdale Council
Craven District Council
Greater Huddersfield CCG
Harrogate and District Foundation Trust
Harrogate and Rural District CCG
Harrogate Borough Council
Kirklees Council
Leeds and York Partnership Foundation Trust
Leeds City Council
Leeds Community Healthcare Trust
Leeds North CCG
Leeds South and East CCG
Leeds Teaching Hospitals Trust
Leeds West CCG
Locala Community Partnerships CIC
North Kirklees CCG
North Yorkshire County Council
South West Yorkshire Partnership Foundation Trust
Tees Esk and Wear Valleys Foundation Trust
The Mid-Yorkshire Hospitals Trust
Wakefield CCG
Wakefield Council
Yorkshire Ambulance Service Trust