Get involved with the NHS Birthday
There were lots of ways for people to get involved in commemorating the birthday of the NHS and social care.
Here are the main activities we organised nationally.
Thank You Day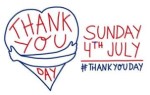 On Sunday 4 July, the day before the NHS turned 73, the Together coalition led a national day of thanks and recognition to celebrate the incredible work of our NHS staff, all key workers and others in our communities who helped us through this challenging year.
May Parsons, the nurse who gave the first COVID-19 vaccine to Maggie Keenan, and many others supported the initiative.
Find out more about Thank You Day
The NHS Big Tea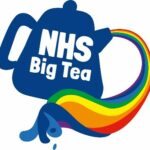 The #NHSBigTea, hosted by NHS Charities Together, was an opportunity to come together and thank NHS staff and our communities for the incredible role they played over the last year.
At 3pm on the NHS's birthday (Monday 5 July) people took a moment to reflect and raise a mug in collective thanks.
Find out more about The NHS Big Tea
Memorial service
On Saturday 3 July, the NHS held a special memorial service in the Blossom Memorial Garden in East London to remember NHS colleagues who sadly died during the pandemic.
Find out more about the memorial service
Light It Blue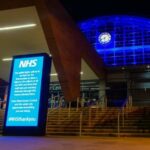 On Saturday 3 July, landmark buildings in towns and cities across the country 'lit up blue' to help the NHS celebrate its birthday.
While marking all that the NHS had achieved, we also remembered those who lost their lives to COVID-19 during this simple act of respect.