Get involved with the NHS Birthday
There are lots of ways for you to get involved in commemorating the birthday of the NHS and social care. Here are the main activities that we are organising nationally and you can check the websites and twitter accounts of your local NHS organisations to see if they have any local activities planned.
People's Picture – Rainbows for the NHS
---
Moment of remembrance – Saturday 4 July
Saturday 4 July, the day before the birthday, will be a moment of remembrance and reflection for those we have lost during the pandemic. This is a chance for the nation to come together and pay our respects. It is being led by the Together Coalition and we are asking people to place a light in their window or on their doorstep.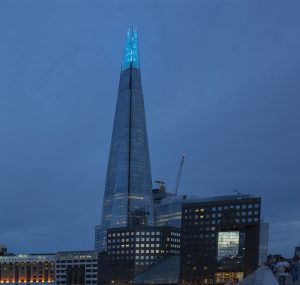 As part of this collective memorial, and as a mark of respect and tribute to NHS staff, key workers and everyone who has played their part during the pandemic, iconic landmarks including the London Eye, Royal Albert Hall, Blackpool Tower and Wembley Arch will be illuminated in blue.
We are calling on sports stadiums, bridges, castles, monuments, conference venues and landmarks to join in lighting up our skylines and cities on the evening of 4 July.
Thank you to the #MakeitBlue Collective who are supporting us as part of their #LightItBlue campaign. The campaign was created by the events and entertainment industry to show a united display of gratitude for health and key workers.
Have a look at this list of the buildings that we have been told will be lit up. We will update the list as we hear about more, so please check back.
We are also encouraging people to take photos and share them via social media using the hashtags #LightItBlue and #ThankYouTogether.
#Thankyoutogether – Sunday 5 July at 5pm
On Sunday 5 July, the day the NHS was founded, the whole country is invited to come together at 5pm to applaud all those who have been helping us through the pandemic and recognise the vital community connections that continue to support us all.
Broadcasters will suspend normal transmissions at 5pm.
Everybody will be encouraged to stop what they're doing and join with others (following social distancing advice of course) in their streets or neighbourhoods to applaud not just the NHS and other key workers but all those who have volunteered or helped keep services and community networks going.
Following the applause, we hope people will enjoy a drink or a cup of tea and reflect with family, friends and neighbours on the bonds that have sustained us in recent months and will continue to do so.
This year has been the most challenging in NHS history, with staff displaying extraordinary dedication, skill and compassion to care for the 100,000 patients with COVID-19 who needed specialist hospital treatment and many others besides.

During this testing time our nurses, doctors, physios, pharmacists and countless more colleagues were sustained by the support of the public, not least through the weekly applause for key workers.

No health service, not even the NHS, could have coped alone with this coronavirus pandemic.

From bus drivers and teachers to care staff and food retailers and, of course, the public who took action to stay at home to stop infection spreading, everyone played their part.

The NHS's birthday this year not only offers the opportunity for us to say thank you to the nation, but for us all to come together at 5pm to pause and recognise all the work which has taken place in the last months and say a heartfelt thank you.

Sir Simon Stevens, NHS Chief Executive
Rankin portraits of NHS staff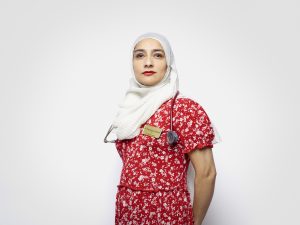 Rankin, the acclaimed and renowned photographer, offered to capture powerful portraits of 12 individuals from across the NHS in a mark of tribute and thanks, as well as to serve as inspiration for generations to come.
The portraits of doctors, nurses and a diverse spectrum of other NHS staff who are playing a critical role in managing the response to the COVID-19 pandemic are being showcased across the country at bus stops, roadside billboards and iconic pedestrian areas including the world-famous Piccadilly Lights in central London.
See each portrait and read their own touching and personal stories.
People's Picture – Rainbows for the NHS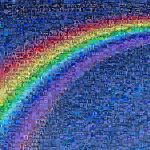 'Rainbows for the NHS' is a giant interactive mosaic of hope, made up of pictures and stories, submitted to the People's Picture during the COVID-19 pandemic. Explore the stories of thousands of lives of the NHS, key workers, carers and people from across the country.
NHS Parliamentary awards
From 2 July 2020, MPs can nominate individuals or organisations for one of the following NHS Parliamentary Awards, sponsored by Fujifilm, to recognise those that go above and beyond the call of duty to make the NHS a better:
The Excellence in Healthcare Award
The Excellence in Mental Health Care Award
The Excellence in Urgent and Emergency Care Award
The Excellence in Primary Care Award
The Future NHS Award
The Health Equalities Award
The Care and Compassion Award
The Wellbeing at Work Award
NHS Rising star [new for 2020]
The Lifetime Achievement Award
We encourage people and health and care organisations to reach out to your local MPs with ideas for nominations.
Nominations are open until midnight on Tuesday 1 September 2020.