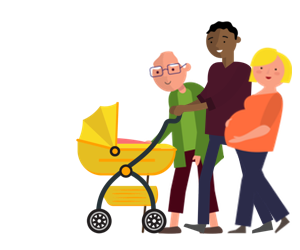 Region: East of England
Population: 1.2 million
Find out more about Norfolk and Waveney integrated care system (ICS) including details of its population size, constituent organisations and priorities.
Priorities
Preventing illness and promoting well-being – supporting people to live longer, healthier lives by targeting lifestyle risk factors. Aligning community services with local authorities and the third sector, supporting people to live independently.
Care closer to home – people living independently with better access to primary, and secondary care, as well as the third sector, thereby reducing demand on hospital and residential services.
Integrated working across physical, social and mental health, delivering holistic care, improved patient experience and better outcomes. Services focusing on social care and mental
health parity of esteem.
Developing sustainable hospital services.
Delivering cost-effective, high quality services within the funds available.
Constituent organisations
The following organisations are part of Norfolk and Waveney ICS. For individual contact details for these organisations, please see the NHS website.
East Coast Community Healthcare CIC
East of England Ambulance Service NHS Trust
Healthwatch Norfolk
Healthwatch Suffolk
IC24
James Paget University Hospitals NHS Foundation Trust
Kings Lynn NHS Foundation Trust
Norfolk and Norwich University Hospitals NHS Foundation Trust
Norfolk and Suffolk County Council
Norfolk and Suffolk NHS Foundation Trust
Norfolk and Waveney CCG
Norfolk and Waveney Local Medical Committee District, borough and city councils
Norfolk Community Health and Care NHS Trust
Norfolk Independent Care
Queen Elizabeth Hospital
Contact Norfolk and Waveney ICS
ICS leader: Melanie Craig, Chief Officer, Norfolk and Waveney CCGs
Independent Chair: Patricia Hewitt
Email: chris.williams20@nhs.net