Many people with respiratory conditions find that their symptoms become worse during colder weather, which can lead to more severe illness resulting in hospital admission.
More information about respiratory conditions can be found at: Health A to Z – NHS (www.nhs.uk)
Find out more about how to treat common winter illnesses here: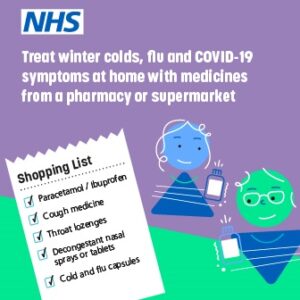 You can treat winter colds, flu and COVID-19 symptoms at home with medicines from a pharmacy or supermarket. 
You can get help and advice from:
a pharmacy – pharmacies can give treatment and advice for a range of minor illnesses and can tell you if you need to see a doctor

your GP – you may be able to speak to a GP online or over the phone, or go in for an appointment if they think you need to

NHS 111 – go to 111.nhs.uk if you have an urgent medical problem and you are not sure what to do
The sooner you get advice, the sooner you're likely to start feeling better.
In an emergency, go to A&E immediately or call 999.