Keeping you well, all year round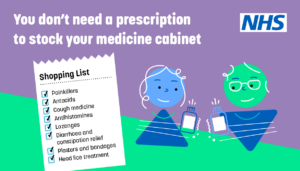 A properly stocked medicine cabinet can help you treat many common illnesses and ailments.
Make sure to have these items on hand: 
A first-aid kit, including bandages, plasters, a thermometer, antiseptic, eyewash solution, sterile dressings, medical tape for dressings and tweezers

Pain relief such as aspirin, paracetamol and ibuprofen for aches, pains and high temperatures

Oral rehydration salts to replace lost minerals and fluid after a fever or vomiting and diarrhoea

Anti-diarrhoea tablets to relieve symptoms of diarrhoea, although these will not help with the underlying cause

Antihistamines which can help with allergies

Indigestion relief remedies
It can cost less than £10 to fill your cabinet with recommended medicines and be prepared if you or a loved one fall ill.  You get products from your community pharmacy, supermarkets and many other high street stores and budget retailers also stock them.
If you or someone you care for requires medicines regularly, it's important to make sure you order and collect repeat prescriptions in good time.
Ordering and collecting prescriptions can take several days, which is why people are being urged to plan ahead. It's important to order repeat prescriptions at least a week in advance.
If you need to order a repeat prescription and you have a smart phone, please download the NHS App – it's a quick and easy way to order your repeat prescriptions.   
There is expert NHS self-care advice available for every day illnesses. 
You can also check your symptoms using 111 online.
More information on winter illnesses
High street pharmacies can also provide expert advice.
If your symptoms continue to get worse or have not improved after 72 hours then contact your GP practice.