East Kent: Sharing knowledge for a different mindset in health and social care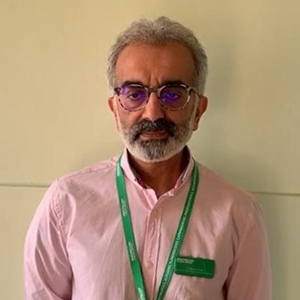 Hosting virtual multidisciplinary knowledge sharing sessions is just one of the ways that the Acute Response Team (ART) service in Thanet, East Kent, is providing extra support to health and social care teams – enabling more collaboration and helping colleagues to upskill.
Dr Rakesh Koria, GP lead for ART, explained: "The district of Thanet has 61 care homes caring for around 1,500 residents. The ART service utilises a team of GPs, nurses, paramedics, allied health care professionals and geriatricians in partnership with NHS acute and community trusts supporting holistic care in the community."
"We monitor the holistic and medical needs of frail patients in their own homes and care homes daily, offering appropriate input, and we respond to ambulance calls for additional support and prevent an admission if possible. We also carry out remote hospital ward rounds and A&E assessments to find patients who are fit to go home but need follow-up medical surveillance or support."
"As part of the COVID-19 response we've extended the ART hours from 8am – 5.30pm to 8am – 8pm. The team provides face-to-face assessments and responds to patients' needs. We remain in touch with care homes daily and provide overall guidance on all aspects of medical care, including isolation."
"As health and care professionals, we also had to work out how to protect patients by managing them at home and in the community," he said. "We all started working with more collaboration, with a really different mindset emerging."
A fortnightly webinar was set up, allowing multidisciplinary professionals to share knowledge very quickly, regardless of roles or settings. The first two attracted around 100 attendees, and the sessions are now open to health and care professionals across Kent and Medway. Topics have included treatment escalation plans and end-of-life care drugs, how to manage multiple deteriorating patients in care homes, testing, tracing and treatment, and mental health challenges for patients and professionals during the pandemic. So far, around 1,000 professionals across the various settings have engaged with these sessions.
Staff are also working more closely together. Paramedics can contact the team for advice, medical input and general holistic support for the elderly and frail patients who otherwise could end up in hospital. Care homes can also ring the service if they are unable to get through to the GP surgery, and district nurses any time if they need any medication changes for an end-of-life care patient.
Rakesh said: "The engagement and feedback from staff has been excellent. Together, we are sorting issues within days that have been unsolvable for many years. We hope that these new best practices – inspired by the crisis – are preserved for future shared working. Valuing each other and working together gives everyone a sense of belonging."
Thanet GP Dr Ash Peshen, who helped set up ART five years ago, and Dr Shelagh O'Riordan, Community Geriatrician and KCHFT Frailty Director in East Kent, are now formulating a pathway to build on this success to enable 111, 999 and out of hours services to access ART's support, for timely community interventions and hospital avoidance where appropriate.
Rakesh added: "Overall, this End of Life Care Out of Hours Pilot has demonstrated significant qualitative and quantitative impact – and as such we're now considering taking it forward and incorporating it as 'business as usual' activity."
Find out more about what ART is doing to care for people most vulnerable to COVID-19 in Thanet or for more information, please contact r.koria@nhs.net  and ashwani.peshen@nhs.net