Our Declaration: making it happen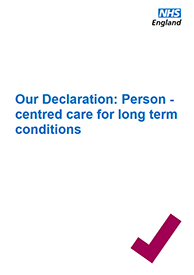 Our Declaration sets out the importance of person centred care for people with long term conditions, what needs to change and why we need to change. It was developed for and with input from health and care professionals, policy makers and people with long term conditions.
For more information about Our Declaration including the story of how it was developed, the case for change and what steps NHS England has taken so far to meet the challenge it sets out, please visit Our Declaration section. The case for change and drivers behind the increased focus on person centred approaches are explained in National Action for Change.
The Action for Person Centred Care Campaign is helping to make Our Declaration a reality with individuals and organisations pledging action and sharing progress, examples and ideas through social media (#A4PCC). Add yours here: My Declaration – make your commitment to act.
Here are some declarations made so far
Declarations will be regularly refreshed so look out for your personal or organisational declaration featuring here soon!
Our Declaration] provides a consistent message that we can all agree on, so that people with long term conditions and disabilities feel supported and heard, so they feel enabled to live and stay well. My declaration is it endeavour to support people to achieve their personal outcomes, through a coordinated and enabling approach at every contact
Katie Coleman, GP and Vice Chair Clinical of Islington CCG.
Our Declaration is an important step toward acknowledging the impact of living with long term conditions has on all aspects of a person's life. By putting patients at the centre of their care, we can avoid them becoming lost within the healthcare system.

Anne Thurston, National Osteoporosis Society
At the moment non-patient-centred care causes loss of trust lack of communication. If used correctly and implemented at all key levels Our Declaration will save lives and help deterioration of conditions to be slowed or halted".

Reverend Jacky Barfoot, Patient and Disability Campaigner.
See the full list of individuals and organisations who have already signed up to Our Declaration.
---
Organisations
Arthritis and Musculoskeletal Alliance (ARMA)
Birmingham Community Healthcare NHS Trust
Birmingham Cross City Patient Participation Group
British Geriatric Society
Cheshire Area for Cheshire Action
Coalition for Collaborative Care (C4CC)
GINES
Hospice UK
Insignia Health
Leeds Community Healthcare
Marie Curie
National Association for Voluntary and Community Action (NAVCA)
National Council for Palliative Care (NCPC)
National Institute for Health and Care Excellence
National Kidney Fund
Neurological Alliance
NHS Barnsley CCG
NHS People's Panel
NIHR Dissemination Centre
Northern, Eastern and Western Devon CCG
Parish Nursing Ministries UK
Royal College of Anaesthetists
Royal College of General Practitioners
Royal College of Nursing
Royal Pharmaceutical Society
Self Management UK
Skills for Care
Skills for Health
Tees, Esk and Wear Valley NHS Foundation Trust
TPP
University of Southampton
Wessex Kidney Centre
Individuals
Nigel Acheson, Medical Director, NHS England (South)
Kristi Adams, Programme Manager, RCGP Collaborative Care and Support Planning Programme, RCGP
Kate Adlington, Clinical Fellow, NHS England
Alison Austin, Personalisation Team, NHS England
David Bateman, National Clinical Director for Neurology, NHS England
David Bramley, Deputy Head and Programme Lead for Older people, NHS England
Alistair Burns, National Clinical Director for Dementia, NHS England
Lesley Callow, Service Delivery Manager LTC Improvement Programme, NHSIQ
Fiona Carey, C4CC Co-Production Group
Jerry Clough, Chief Operating Officer & Locality Managing Director, Western Locality
A W Collins, The Health Foundation
Jackie Cornish, National Clinical Director for Children, Young People and Transition, NHS England
Richard Cross, C4CC Co-Production Group
Erika Denton, National Clinical Director for Diagnostics, NHS England
Clenton Farquharson, C4CC Co-Production Group
Richard Fluck, National Clinical Director for Renal, NHS England
Trevor Fossey, C4CC Co-Production Group
Bill Gowans, Shropshire CCG
Ruth Hall, NHS England
Isabel Hodkinson, Tower Hamlets CCG
Lindsay Hughes, Programme Lead for Rehabilitation, NHS England
Raymond Jankowski, Public Health England
Marc Jeanneret, CQC
Paulette Johnson, NHS England
Peter Kay, National Clinical Director for MSK, NHS England
Sharon Lamont, NHS England
Martin McShane, National Medical Director for LTCs, NHS England
Sarah Marsh, Programme Lead for LTCs, NHS England
Beverley Matthews, Programme Director for LTC Improvement Programme and LTC Year Of Care Commissioning Programme, NHS Digital
Neeta Mehta, C4CC Co-Production Group
Andrew Mills, LTC Project Delivery Manager, NHS England
Christine Morgan, C4CC Co-Production Group
Mike Morgan, National Clinical Director for Respiratory Diseases, NHS England
Shelagh Morris, Deputy Chief Professional Officer for AHPs, NHS England
Arun Nayyar, North East Lincolnshire CCG
Penny Newman, Colchester University Hospital
Peter O'Reilly, Chief Executive of Greater Manchester Fire Service & Strategic Health Lead for the Chief Fire Officers Association
Jo Powell, Programme Lead for Dementia, NHS England
Sally Percival, C4CC
Shahana Ramsden, C4CC
Don Redding, National Voices
Martin Routledge, Programme Director, C4CC
Mandy Rudczenko, C4CC Co-Production Group
Fiona Russell, LGA
Dr Lance Saker, GP, Hampstead Group Practice, Camden CCG Board
Sabyia Sheikh, Delivery Support Manager, NHS IQ
Adrian Sieff, The Health Foundation
Roger Smith, C4CC Co-Production Group
Susan Swientozielskyj, Head of Long Term Conditions & Health Improvement, Nursing Directorate, NHS England
David Trigger, C4CC Co-Production Group
Katie Walkin, Older People Project Delivery Officer, NHS England
Bee Wee, National Clinical Director for End of Life Care, NHS England
Robert Westgate, GP, Cumbria
Jacquie White, Deputy Director for LTCs, Older People and End of Life Care, NHS England
Martin Wildman, Sheffield University
Louise Wilson, Network Delivery Manager, Northern England Strategic Clinical Networks
John Young, National Clinical Director for Older People, NHS England