Female genital mutilation – care and prevention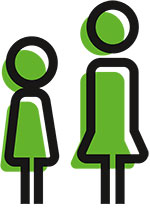 Female genital mutilation (FGM) is a procedure where the female genitals are deliberately cut, injured or changed, but where there is no medical reason for this to be done.
It is very painful and can seriously harm the health of women and girls. It can also cause long-term problems with sex, childbirth and mental health.
FGM is usually carried out on young girls between infancy and the age of 15, most commonly before puberty starts. It is illegal in the UK and is child abuse. Protecting girls from FGM is part of safeguarding.
FGM – some key statistics
Between April 2015 and December 2017, 15,390 patients with FGM were treated in the NHS
Where we know what type of FGM patients treated between April 2016 and March 2017 had, there was highest incidence of Types 1 and 2 (35 and 31 per cent respectively)
The average age of a patient with FGM, when she presented to receive treatment in an NHS setting for the first time was 31 (between April 2016 – March 2017)
Over 50 per cent of patients treated in the NHS were treated and live outside of London (between April 2016 – March 2017)
More than 200 million girls and women alive today have been cut in the 30 countries in Africa, Middle East and south east Asia where FGM is continues to be practised
Across the world, FGM is mostly carried out on young girls sometime between infancy and age 15
FGM is a violation of the human rights of girls and women
Tackling FGM across the NHS
NHS England has worked in partnership with survivors and patients, expert clinicians and many others to improve the way the NHS responds to FGM, with the aim to care for women and girls with FGM, to protect girls growing up from it, and to be part of the global effort to prevent FGM from happening.
Improving the NHS response to FGM has been a key priority, and progress is reporting to and monitored by the National Safeguarding Steering Group.
The following links are for those working in NHS organisation to use when they are developing or reviewing their work on FGM.
They can be used by health professionals from across the health sector and area particularly aimed at:
FGM Leads (strategic and clinical)
designated and named safeguarding leads
commissioners
local safeguarding children board members.
We will only eradicate FGM if we work together.  Work across the NHS should link to partner agencies including Children's social care, the police, local authorities and public health, community and patient groups, and with colleagues from education settings where possible.
Providing the services that patients need
Commissioning services for women and girls with FGM provides recommendations for commissioners to help them understand what healthcare services are needed by women and children who have had Female Genital Mutilation. It provides advice on how to approach and commissioning these, to meet the needs of their local population.
Service Standards for commissioning Female Genital Mutilation care for patients under the age of 18 outlines the required standards for services offering examinations and care to under 18s. This includes services examining girls after a report has been made to the police under the Mandatory Reporting Duty.
Safeguarding against FGM
Safeguarding is everybody's business, and central to the NHS. Our work to protect girls from FGM is part of the wider safeguarding effort, and clinicians need always to remain alert that their patients may be need protection against other forms of abuse.
Professional responsibilities to act in relation to FGM were strengthened, when the FGM Mandatory Reporting Duty was in October 2015.  Since this new legislation, if a girl under 18 tells or a professional sees that she has FGM, the professional has to report this to the police, using the 101 non-emergency police number.
Best practice guidance, pathways and templates to safeguard against FGM and about the Mandatory Reporting Duty are available.
Training healthcare professionals about FGM
NHS organisations have statutory responsibilities to make sure that staff are appropriately trained in relation to FGM.
Female Genital Mutilation: Standards for training healthcare professionals supports training organisations to understand, alongside the existing safeguarding curriculums, how to do this.
e-Learning for Healthcare offer a FREE elearning package on FGM. All NHS staff can register for access, as well as health visitors, school nurses and some social workers.
There is a suite of 'ready to deliver' training packages, which NHS organisation can use to meet the training standards and the curriculum requirements.
Using the FGM Information Sharing system
The FGM Information Sharing system is a national IT system which supports the early intervention and ongoing safeguarding of girls under the age of 18, who have a family history of FGM.  NHS Digital are introducing this important system across the NHS.
To support clinicians understand how the system will impact upon interactions with patients, and to help clinicians understand how and when to ask patients about FGM, we have created the following scenario-based animations:
To further understand the FGM Information Sharing system, please watch this discussion.
Please note: the FGM Information Sharing system was previously called the FGM Risk Indication System. The system, accessed via the Summary Care Record application, was updated in May 2018. Please see the NHS Digital website for more details on the implementation process.
Information about FGM for patients and for professionals
What information is available about FGM in the NHS?
NHS Digital collects data on FGM within the NHS in England. The data collected is used to produce information that helps to:
improve how the NHS supports women and girls who have had or who are at risk of FGM
plan the local NHS services needed both now and in the future
help other organisations e.g. local authorities to develop plans to stop FGM happening in local communities
Data is collected from NHS acute trusts, mental health trusts and GP practices and reports are published here as an official statistic every quarter.
For more information about what organisations need to collect and how to submit these, visit the NHS Digital's FGM Enhanced Dataset webpage.
Designated Safeguarding Nurses in CCGs are sent scorecards each quarter via their networks which display this information in a usable and accessible manner.