A GP perspective on social prescribing and the response to COVID-19 in Merton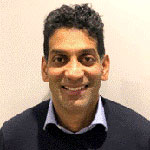 Mohan Sekeram, is GP Principal at Wideway Medical Practice in Merton, RCGP Regional Clinical Lead London (Person Centred Care) and Clinical Lead for Social Prescribing in Wandsworth and Merton Borough.
We asked him about his experience of social prescribing in lockdown, and why he is convinced the PCNs should be including social prescribing link workers in their COVID-19 recovery plans.
What was social prescribing like locally before COVID-19 struck?
In Merton we have six primary care networks (PCNs) and nine social prescribing link workers across the borough. Within my practice we currently have two link workers who each work one day a week. Prior to COVID they would see up to seven patients in a day and contact patients initially over the phone. During COVID times they have been working remotely.
Link workers have really been the glue in bringing care together across the community. Patients can receive support for their 'non-medical' needs by speaking to a link worker who is able to connect them into the appropriate service. This is integral to personalised care and to identifying what really matters to an individual.
Family GPs are trusted by patients, and primary care being seen to endorse social prescribing link workers improves engagement with the people who need support most. They provide support that addresses the social and environmental issues that have such a big impact on people's physical and mental wellbeing.  It's easy for us, and for the patients themselves, to be blinded to this need, as together we tend to 'medicalise' their symptoms.
What benefits have you seen from social prescribing generally – and also in response to COVID-19?
There have been huge benefits to community integration. The link workers have a fantastic relationship with the voluntary, community and social enterprise (VCSE) sector and know what services and assets exists to support our community. This has been fed back to primary care and allows utilisation of resources which previously we wouldn't have known about.
Embedding in primary care has been the real success. Link workers attend practice clinical meetings, staff meeting and multidisciplinary meetings – as well as social events. They have integrated wonderfully and adapted to the environment in general practice. This has allowed the service to grow and develop to fit in well with the overall care we provide in the practice and our PCN.
To start with, GPs were the only ones referring patients to the link workers but now the service has evolved, with nurses, healthcare assistants and receptionists all referring patients, as they often know things about a patient which the GP may not be aware off.
How are your SPLWs contributing to the coronavirus response?
The link workers have been contributing in a number of ways during the COVID response.
Practices have continued to refer patients who have an underlying social problem. The majority of referrals have been made via the Elemental software tool which allows the link workers to pick up referrals remotely from practices. The other way has been using manual forms and emailing lists of patients to link workers who have a secure NHS email account. The link workers have also competed data protection and GDPR training.
Other referrals have included giving link workers lists of vulnerable patients which have consisted of shielded patient list, vulnerable adults, mental health patients, carers and other groups which we have felt needed extra support. The majority of cases have centred around welfare checks, emotional support, domestic violence support, housing and employment issues, problems related to homelessness and many other reasons.
Link workers in Merton have also linked with pharmacy prescriptions and have been co-ordinating medication drop offs for vulnerable patients by using the NHS Volunteers and GoodSam app.
Many patients/clients have been very anxious during the current pandemic and worried about a number of things. Speaking to a link worker has provided reassurance and helped them to manage their anxiety.
Why should PCNs recruit social prescribing link workers?
In Merton we carried out a local evaluation with a group of our patients. It showed that 'pre COVID' times social prescribing reduced these patients' GP appointments by 33% and their A+E attendances by 50%. Their wellbeing scores improved by 77 %.
The link workers allow clinicians to concentrate on medical problems. We have seen the health and wellbeing of clinicians themselves improve as social prescribing has provided real solutions for patients with complex social needs. Previously these social needs would be side-lined as clinicians can feel ill-equipped to support these problems.
Problems often originate in deprived populations where health inequalities are at their greatest. Social prescribing helps tackle these issues and contributes to closing the inequality gap. Marmot (2020) talked about a widening gap in health inequalities where some areas had a reduction in life expectancy. We need to support our populations.
Link workers provide true integration into community assets which we need to build upon. They are expert at integration and are a vital component of population health management.
During COVID times, the link workers have been exceptional, adapting to the needs of the practice and the PCN. It has allowed our vulnerable and isolated patients to get the support the require. They have supported those in a crisis and will also be integral to our recovery offer.
If you could give one piece of advice to PCN leadership about social prescribing, what would it be?
My advice would be to support your link worker and provide clinical supervision to ensure they embed into your network and practice. They will find some fantastic resources which are in your own community and provide sustainable and real solutions for your patients.