What is social prescribing?
Social prescribing is a key component of Universal Personalised Care. It is an approach that connects people to activities, groups, and services in their community to meet the practical, social and emotional needs that affect their health and wellbeing.
In social prescribing, local agencies such as local charities, social care and health services refer people to a social prescribing link worker. Social prescribing link workers give people time, focusing on 'what matters to me?' to coproduce a simple personalised care and support plan, and support people to take control of their health and wellbeing.
Social prescribing link workers also support existing community groups to be accessible and sustainable, and help people to start new groups, working collaboratively with all local partners.
Social prescribing is an all-age, whole population approach that works particularly well for people who:
have one or more long term conditions
who need support with low level mental health issues
who are lonely or isolated
who have complex social needs which affect their wellbeing.
You can find out more about social prescribing and the social prescribing link worker role in our frequently asked questions. Details about social prescribing link workers and how we are supporting with resources and through training and development can be found on our website.
A standard model of social prescribing has been developed by NHS England in partnership with stakeholders, which shows the elements that need to be in place for effective social prescribing to happen.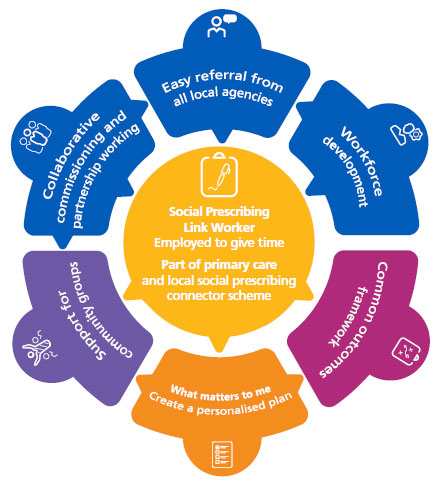 Social prescribing complements other approaches in a local area such as active signposting, where existing staff in local agencies provide information to signpost people to services, using local knowledge and resource directories.
The NHS and social prescribing
In the NHS Long Term Plan, NHS England committed to building the infrastructure for social prescribing in primary care and embed social prescribing and community-based approaches across the NHS.
This includes introducing social prescribing link workers into primary care networks (PCNs) so that every person in England can access a social prescribing service through their GP practice, starting with 1,000 new social prescribing link workers in place by 2020/21, and a goal that at least 900,000 people will be referred to social prescribing by 2023/24. This is part of the drive to universal personalised care that will see at least 2.5 million people benefiting from personalised care by 2023/24.
This is the biggest investment in social prescribing by any national health system and legitimises non-medical community-based activities and holistic support alongside medical treatment as part of a personalised care approach.
In 2022/23, an additional requirement for primary care networks to provide a proactive social prescribing service was introduced as part of the contract. This means that primary care networks must work with a population experiencing health inequalities to proactively offer social prescribing interventions.
To deliver the proactive social prescribing aspects of the requirements, primary care networks may wish to use population health management (PHM) data and intelligence from social prescribing services and the Health inequalities improvement dashboard in conjunction with lived experience to identify the patient cohort(s).
Primary care networks can find more information about embedding social prescribing and social prescribing link workers in our PCN reference guide for social prescribing link workers.
NHS England delivers a support offer for social prescribing link workers and wider workforce. You can find more details of our support offer, including our Workforce development framework, how to access our online networks and community of practice, and other helpful resources.
Working with our partners
The NHS England social prescribing team works closely with national partners including the Department of Health and Social Care (DHSC), Department of Culture, Media and Sport (DCMS) and the National Academy for Social Prescribing (NASP).
NASP is an organisation dedicated to advancing social prescribing through championing social prescribing and the work of local communities in connecting people for wellbeing, and work to create partnerships cross-sector at a local and national level to achieve this.
NHS England works closely with NASP, including supporting programmes such as the Thriving Communities programme, a national support programme for voluntary, community, faith and social enterprise groups, supporting communities to ensure the vital work of social prescribing succeeds on a local level. The Accelerating Innovation in Social Prescribing programme, a partnership with NASP and Royal Voluntary Service, came to an end in March 2023. However, NASP will continue some of the work of the programme, including Skillshare and the webinar programme, and continue to work on social prescribing innovation with members of the community of practice.
The team also works closely with partners to deliver the cross-government Green social prescribing programme.
Resources
Contact details for further information
Email the NHS England social prescribing programme: england.socialprescribing@nhs.net