Allied Health Professions into Action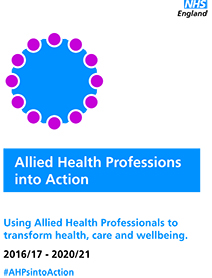 Allied Health Professions into Action brings together the views of the third largest workforce in the health and care system. This includes Art Therapists, Drama Therapists, Music Therapists, Podiatrists, Dietitians, Occupational Therapists, Orthoptists, Prosthetists and Orthotists, Paramedics, Physiotherapists, Diagnostic and Therapeutic, Radiographers and Speech and Language Therapists.
Aimed at leaders and decision makers, this document will help them understand the potential and role of AHPs within the health, social and wider care system.
'AHPs into Action' describes how AHPs can support the delivery of Sustainability and Transformation Plans (STPs) and the pursuit of the triple aim in the Five Year Forward View. It is a resource to inform and inspire AHPs, leaders and decision makers across the health and care system, offering:
A clear view of the potential of AHPs
53 examples of innovative AHP practice
A framework to help develop local delivery plans.
'AHPs into Action' defines how AHPs can support the delivery of the triple aim by describing how England would be different if AHPs were genuinely used effectively (part one) and what they need to stop, start or do differently to make this happen (part two). It describes the:
Impact of the effective and efficient use of AHPs for people
Commitment to the way services are delivered
Priorities to meet the challenges of changing care needs.
How was 'AHPs into Action' developed?
Through engagement with AHP professional bodies, there was agreement that gains can be made for all AHPs – and the care system more broadly – by working together.
It was decided that collective engagement was needed to make sure AHPs had the opportunity to have their voice heard to shape such a mandate and that service users, the public and wider stakeholders were equally important in this process.
The mandate has been co-produced using data and evidence; a review of national policy documents and publications; engagement and involvement from senior leaders across the system. Over 16,000 contributions were submitted from patients, carers, the public, and health and care staff including AHPs, through a process of crowdsourcing.
Implementing 'AHPs into Action'
'AHPs into Action' gives the system the authority to act. To support AHPs transform care, improve services and have a continued focus on efficiency, leaders across the system will need to play a part in its delivery:
The Chief Allied Health Professions Officer (CAHPO) as the most senior officer in England for AHPs. The CAHPO works alongside colleagues inside and outside NHS England, as the senior adviser to Ministers and the Department of Health on AHP matters, as well as representing England's care professionals on the international stage.
System leaders, whether they are employed in provider, commissioner, HEI or other organisations, responsible for decision making
AHPs who deliver services to citizens, in roles funded by the taxpayer.
Further details regarding specific responsibilities for each of these key leadership groups can be found in 'AHPs into Action' on page 23.
Resources
Get involved
You can also keep in touch by following Suzanne Rastrick, Chief Allied Health Professions Officer on Twitter @SuzanneRastrick and Shelagh Morris, Deputy Chief Allied Health Professions Officer @ShelaghDCAHPO.
@WeAHPs connects and supports the Allied Health Professionals community through #WeAHPs tweet chats and social media resources.