The Allied Health Professions (AHPs) are the third largest workforce in the NHS.  In the main they are degree level professions, and are professionally autonomous practitioners.  13 of the 14 AHPs are regulated by the Health and Care Professions Council (HCPC) with Osteopaths regulated by the General Osteopathic Council (GOC).
AHPs provide system-wide care to assess, treat, diagnose and discharge patients across social care, housing, education, and independent and voluntary sectors.  Through adopting an holistic approach to healthcare, AHPs are able to help manage patients' care throughout the life course from birth to palliative care.  Their focus is on prevention and improvement of health and wellbeing to maximise the potential for individuals to live full and active lives within their family circles, social networks, education/training and the workplace.
Find out more about the fourteen allied health professions.
The Chief Allied Health Professions Officer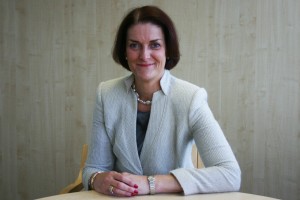 Suzanne Rastrick has been NHS England's Chief Allied Health Professions Officer (CAHPO) since September 2014.
Suzanne qualified as an Occupational Therapist from Oxford in 1986 and began her career in the acute hospital sector.
She was one of the first Allied Health Professionals to hold a substantive Director of Nursing post. She has also been Chief Executive of a Primary Care Trust and from 2013, she has played a prominent role in clinical commissioning, establishing and authorising without conditions the third largest Clinical Commissioning Group in England before being appointed as the Chief Allied Health Professions Officer.
She has a Non-Executive portfolio in the commercial and not for profit Housing Sector and sits on a number of National Boards.
She works alongside colleagues both within and outside of NHS England, as the senior adviser to the Department of Health on AHP matters, as well as representing England's health professionals in UK wide policy discussions – where the Chief Allied Health Professions Officer takes a lead role – with the Devolved Administrations and on the international stage.
The Chief Allied Health Professions Officer's role includes building effective strategic working relationships with senior leads from partner organisations and practitioners including: Department of Health, NHS Improvement, Health Education England, Health and Care Professions Council, National Institute for Health and Care Excellence, Care Quality Commission, Public Health England, the Royal Colleges and professional specialist bodies, clinicians in hospital and community health services, and primary care practitioners and professionals in social care and the independent and voluntary sector to support commissioning for improvement and to help clinicians innovate, identify, share and adopt best practice.
The Chief Allied Health Professions Officer has Deputies in NHS England, NHS Improvement, Public Health England and an AHP Lead in Health Education England which form a collective Arms Length Body (ALB) AHP leadership forum.