The Allied Health Professions (AHPs) are the third largest workforce in the NHS.  In the main they are degree level professions, and are professionally autonomous practitioners.  13 of the 14 AHPs are regulated by the Health and Care Professions Council (HCPC) with Osteopaths regulated by the General Osteopathic Council (GOC).
AHPs provide system-wide care to assess, treat, diagnose and discharge patients across social care, housing, education, and independent and voluntary sectors.  Through adopting an holistic approach to healthcare, AHPs are able to help manage patients' care throughout the life course from birth to palliative care.  Their focus is on prevention and improvement of health and wellbeing to maximise the potential for individuals to live full and active lives within their family circles, social networks, education/training and the workplace.
Find out more about the fourteen allied health professions.
The Chief Allied Health Professions Officer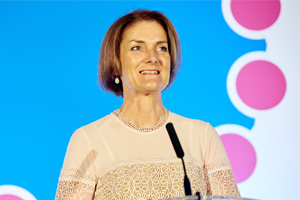 Suzanne Rastrick, Chief Allied Health Professions Officer.
Suzanne qualified as an Occupational Therapist from Oxford. She began her career in the acute hospital sector, specialising in orthotics, moving to practice in community services where she gained her first general management role.
Suzanne was the first Allied Health Professional (AHP) to hold a substantive Director of Nursing post in both providing and commissioning organisations.  She became the Chief Executive of a Primary Care Trust, where a particular highlight was having leadership responsibility for delivering health resilience and health 'blue light' services during the Olympic sailing events held in Dorset in 2012. She subsequently gained authorisation for a large Clinical Commissioning Group, before moving to her current post with NHS Eng  land.She was appointed as Chief Allied Health Professions Officer for England in September 2014.
Her vision to utilise crowdsourcing in the development of the strategy AHPs into Action (NHS England, 2017) has been recognised as ground breaking in policy development. Since her mid-twenties Suzanne has held non-executive portfolios outside of the NHS, including audit committee chair roles, predominantly in the housing and charitable sector.