We have some excellent, world class specialised services in south London, but there is still room for improvement in terms of quality, performance and value for money. There is also significant population growth pressure on specialised services and if we do not make changes now, then the current level of service provision will be unaffordable by 2020/21, given the increased demand from the population. It is recognised that there is an opportunity to deliver improved value and outcomes through closer collaboration between providers in south London.
In autumn 2016, a review of specialised services began to evaluate the provision of NHS England-commissioned acute specialised services in south London, within the context of wider work. The programme aims to ensure that the future provision of specialised services in south London is both of high quality and financially sustainable through to 2021 and beyond.
NHS England have defined success factors for the programme as below:
Patient Experience
Quality
Value for Money
To ensure that services support patient led care.  Patients, carers and families are sufficiently informed and supported to make the best choice for them regarding their treatment.
To provide optimal, safe, quality services. Services are provided in line with recognised best practice standards and recommendations made from previous quality reviews are addressed.
To bridge the gap between the rate of growth in service funding allocated and spend. This will require effective use of drugs/devices, demand management and appropriate intervention rates.
Targets:

•Increase in patient satisfaction scores (to be agreed with the relevant patient representatives)

•Effectiveness of shared decision making (e.g. treatment options)

•Specific service group interventions, in line with best practice.

Targets:

•All recommendations from previous quality reviews implemented and sustained

•Improvement in measures on the Quality Dashboard – at patient and system level (to be agreed with the relevant patient representatives)

•Tail providers and occasional practice addressed

•Resilient services, in terms of workforce/physical capacity.

Targets:

• Address the gap between funding for specialised services and projected 'do nothing' expenditure (including growth). Initial estimates suggest this gap will be circa £290m for London residents in 2021, even though funding for London providers is growing (from £3.8bn now to £4.8bn in 2021).

•Proportionate demand management for each service group, so that gap is bridged.
An analysis and evaluation of current acute specialised services provision across South East London (SEL), South West London (SWL), Kent, Medway, Surrey and Sussex, was undertaken – primarily through the lenses of clinical quality and financial affordability. A South London Programme steering group was established in November 2016 and is comprised of a range of key stakeholders including (not exhaustive) Trust Medical Directors from the main specialised providers in south London, SWL and SEL Leads, and representatives from SEL and SWL. Patient representatives from SWL and SEL also sit on this Steering Group.
In order to identify which clinical services it was most sensible to focus initial transformation efforts on, a prioritisation exercise was undertaken. Eight criteria against which to assess each service group were identified for use in the prioritisation exercise, as shown in the figure below. The criteria contain a mix of qualitative and quantitative, as well as clinical and non-clinical indicators.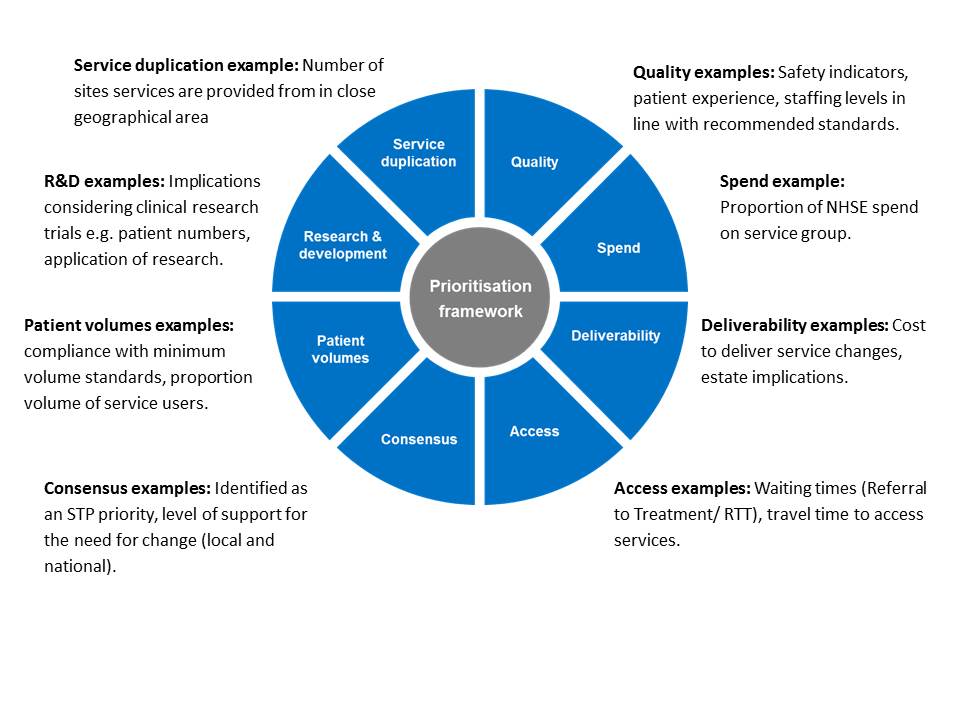 These eight criteria were selected for the framework from:
Prioritisation frameworks adopted in preceding work on specialised commissioned services, which have been previously developed with patient feedback
Best practice principles and the professional judgement of the programme team
Consultation with staff within NHSE
Co-designing and validating with Steering Group members.
The following five specialised service groups demonstrated particular overlap in existing provision, high spend, large patient volumes and room for improvement in quality.
Specialist Cancer
Cardiovascular and thoracic
Neuroscience
Paediatric services
Renal
Four of these five service groups are also the prioritised services for the pan-London work (all except neuroscience).
People involved
The programme has a Steering Group that meets approximately every two weeks. This Steering Group is responsible for optimising clinical service provision for a population larger than a single footprint (i.e. for residents of SEL, SWL and the bordering regions- since a third of referrals for specialised services come from the south of England). The Steering Group is also tasked with driving improvements for this health economy as a whole, rather than considering the interests of their respective organisations.
Roles and organisations who are involved in the work include (non-exhaustive):
The Programme team, including the Programme Director for South London Programme and NHS England's South London Medical Director
Programme Directors/ leads for the South London footprints
Trust Medical Directors for south London provider Trusts (Medical Directors from neighbouring region Trusts will be involved as appropriate)
South London and neighbouring region Chief Officers and Chairs
Clinical teams working within the prioritised service areas within south London providers
Well respected clinical experts, who are not aligned to a south London provider Trust
SEL's Patient & Public Advisory Group and SWL's Patient & Public Engagement Steering Group
Service specific patient representatives, including local patient groups (e.g. Kidney Patient Associations will inform the renal workstream)
Third sector national organisations aligned to the prioritised workstreams
Healthwatch organisations within south London and the neighbouring regions
Existing groups in south London that can help to inform the programme e.g. Equalities Steering Group
South London Communications Director, and the relevant communications leads within Kent, Surrey and Sussex
NHS England London region representative
SEL and SWL Heads of Delivery for Specialised Commissioning
NHS England Specialised Commissioning representatives from the South of England (e.g. Kent, Surrey & Sussex)
An Early Engagement and Communications Plan has been developed for the Programme, which Steering Group members and patient representative groups in south east and south west London have had the opportunity to shape.  This plan will be updated as the programme develops over the next few months.
Progress to date
The Steering Group agreed that, given time and resource constraints, it was impractical to progress all five service groups at the same pace. In order to select the services to progress most rapidly, consideration was given to both the 'Consensus' and 'Deliverability' criteria used within the initial prioritisation exercise and, in particular, guidance was sought from the Medical Directors within the Steering Group. It was agreed by the Steering Group that Cardiovascular and Renal service groups should be progressed first.
When the programme originally commenced, the view was that service reconfiguration (i.e. looking at which services are provided at which site in south London) would be a key area 'in scope' for the programme. However, as discussions progressed, the opportunities to improve both quality and value for money without service reconfiguration became apparent, and the Steering Group agreed that the initial focus should therefore be on implementing improvements without large scale site/ configuration changes. This approach will enable improvements to be introduced quicker. If the other opportunities that are identified and implemented do not sufficiently meet the programme's objectives, we may look again at the location of services and whether any element of site reconfiguration would be helpful.
Renal and cardiac service groups: In February 2017, workshops were held for both renal and cardiac service groups, in order to identify opportunities for improvement. For each of the workshops, the Medical Directors of Guy's and St Thomas' NHS Foundation Trust, King's College Hospital NHS Foundation Trust and St George's University Hospitals NHS Foundation Trust were asked to identify clinical representatives to attend from their organisations. These organisations were asked to provide representatives because they are the major providers of specialised renal and cardiac services in south London. For the renal workshop the Medical Director of Epsom and St Helier University Hospitals was also asked to identify clinical representatives to attend, since Epsom and St Helier is a major provider of renal services in south London. In addition to clinical representatives from these organisations participating in the workshops, well respected clinical experts in the fields of renal and cardiac care, who do not have organisational ties in south London, were closely involved with the running of these workshops. Dr Neil Ashman, London Clinical Network Lead for Renal, supported the renal workshop and Professor Huon Gray, National Cardiovascular Lead, and clinicians supported the cardiac workshop.
The workshops ran very effectively and attendees displayed a willingness to work in collaboration. Attendees were encouraged to share their thoughts on ways in which renal and cardiac services in south London and the surrounding areas could be made more sustainable – considering both short and longer term changes. Numerous opportunities, or 'interventions', were identified by clinical teams and a modelling exercise is now being undertaken, in order to access the financial and performance implications of introducing particular interventions.
Careful consideration is being given to equality and, in line with this, early equality analyses have been undertaken for both the renal and cardiac specialised service groups – since these workstreams are early priorities. These analyses tell us which individuals are most likely to be service users and, thus, most likely to be impacted by any changes. This tells us where engagement efforts will need to be focused, to ensure that we receive input from the most appropriate patient and public groups.
We have recently run workshops on 20th  and 26th of June,  around the proposed interventions from cardiac and renal patient groups and third sector organisations.   The summary output of these workshops will be shared in due course, we are currently checking these back with patients who attended.  Pre-read materials were produced for both of these events, links below:
CARDIAC patient workshop summary report
RENAL patient workshop summary report
We have set up both a renal and a cardiac delivery network across South London. Their key role is to ensure that the agreed interventions are implemented, working across providers, and to support a whole system collaborative provision approach to ensuring the delivery of safe and effective services across the patient pathway. They will provide monthly update reports to the Programme:
Cardiac and Renal ODN – November update
Get involved
We are already involving service specific patient groups, and as the programme develops we will be engaging more with patients and the public.
If you would like to find out more about the programme or get involved then please contact us.
Programme Bulletins
The South London Programme produces a Bulletin, approximately every 2 months, to provide stakeholders with an overview of progress. You can access the bulletins here:
May Bulletin – South London Specialised Services Transformational Programme
February Bulletin – South London Specialised Services Transformational Programme
December Bulletin – South London Specialised Services Transformational Programme
November Bulletin – South London Specialised Services Transformational Programme
July Bulletin – South London Specialised Services Transformational Programme
Frequently Asked Questions (FAQs)
What changes are being made?
The specific changes being made have not been agreed yet however we have heard clear suggested opportunities for improvements during our engagement events with clinicians for cardiac and renal. We are currently analysing the implications of introducing these changes, considering a number of factors including patient experience (informed by patient engagement events) and the impact on the range organisations within the health system.
Is this all about money?
It is certainly not all about saving money – two of the critical objectives of this work are to ensure excellent quality of care and patient experience.  We do of course need to recognise that there is limited funding available, so it is important that the health system allocates this as best it can by considering what is beneficial for patients, and provides the best possible value for money for the taxpayer.
The case for change makes clear that there are financial challenges facing both providers and commissioners which will need to be addressed collectively. We also know that there are many occasions where increased efficiency is associated with improved quality of care for patients. To provide a simple example of this – we know that it is generally most cost effective to invest in prevention (as opposed to treating patients later down the line with more acute, specialised services) and preventing acute illness is also better for patients.
Are you taking travel times into account when considering making changes?
No changes have been proposed yet, but we will actively consider travel implications for patients when assessing any proposed changes. We very much recognise the importance of this for chronic conditions, for example for patients on renal dialysis.
How does this programme fit in with other changes taking place in south London through the process?
Some changes to the delivery of specialised clinical services will be introduced at a level more micro to the South London Programme. This might be at an organisational level (e.g. by an individual hospital) or within one footprint e.g. South East London or South West London only. The South London Programme is focused on changes across both south London footprints.
The Programme Team and Steering Group are also very aware of the other changes proposed or already taking place within the south London footprints and we very much recognise that any changes planned to take place within non-specialised service in south London need to be taken into account with this programme of work. Leads sit on the programme's Steering Group in order to ensure updates on broader change work are provided in a timely manner.
How does this programme fit in with the broader London transformation work?
The South London Programme sits within the Pan-London Programme of work and the programme teams are in discussion daily in order to ensure a seamless approach and delivery. Some of the clinical areas being considered by the South London Programme are only appropriate to the south London area and/ or would be best managed considering a smaller geographical footprint. However, other areas are more appropriate to be considered as a London wide system. Any proposed changes are assessed on a case by case basis, as to whether they should be taken forward within the South London Programme, or whether it is more appropriate to consider change more broadly across London.
How will decisions be made?
Clinician and patient views will inform the recommendations taken to the Programme Steering Group. The Programme's Steering Group (comprised of individuals from across the health system, including patient representatives) will make recommendations to the Specialised Commissioning Planning Board at NHS England and London's Clinical Senate Council, for their consideration and agreement.
Final sign off for any major changes will be required from the Director of NHS England London. 
Will there be a public consultation?
We are working with and involving patients and the public in our work – we welcome your views and will take them into account. All feedback we receive will be noted and we will publish our responses to issues raised. Should significant service changes be proposed – such as relocation of services – we would carry out a formal public consultation. At this stage, no such proposals have been developed.
How can I get involved?
We are already engaging with patient groups associated with the renal workstream. As this programme develops, we will be engaging more with patients and the public in relation to all workstreams. If you would like to get involved please contact us.