Board members bring a range of complementary skills and experience in areas such as finance, governance and health policy. 
Non-executive directors
NHS England's non-executive directors are:
Chair
Richard Meddings
Richard Meddings joined the Board of NHS England as Chair in March 2022.
From 2002 to 2014, Richard was a Group Executive Director at Standard Chartered, and Group Finance Director for eight years. Prior to that he was Group Finance Director at the Woolwich and Group Financial Controller of Barclays. He has in the past been Chairman of TSB Bank, served on the Board of HM Treasury, as a Non-Executive Director on the Boards of Credit Suisse, Legal & General, 3i Group, Jardine Lloyd Thompson Group and at Deutsche Bank A.G. He has in these roles variously chaired Audit, Risk and Remuneration Committees. He has additionally sat as a panel member for HM Treasury on several Major Projects Reviews and undertaken Independent Commercial Assessments of DFID and of the FCO.
From 2004 to 2014, Richard was Chairman of Seeing is Believing, a charity focused on curing avoidable blindness. He was a Trustee, and more recently Deputy Chair, of Teach First from 2016 to January 2022 and served on behalf of the Department of Education, for four years as Chairman of the Hastings Opportunity Area.
He is an Associate of the Institute of Chartered Accountants in England and Wales, attended Wolverhampton Grammar School and has a Degree in Modern History from Exeter College, Oxford. Richard is married, with three adult children, and lives in East Sussex.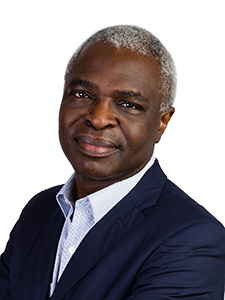 Deputy chair
Wol Kolade
Wol Kolade joined us as Deputy Chair of NHS England on 25 March 2022, after serving as a non-executive director on the NHS Improvement board from August 2018 to March 2022.
Wol is the Managing Partner and Head at Livingbridge. He joined the firm in 1993 and is responsible for the leadership and strategic development of the firm – and takes an active involvement in the firm's investments. He trained as an engineer, having studied civil and structural engineering at King's College London and spent three years with Barclays in various head office roles, before joining Livingbridge.
Wol was formerly is a trustee of Somerset House Trust and a co-founder of the 10,000 Black Interns Initiative. He also sits on the advisory boards of Acorn Capital, Level 20 and the Prudence Trust.
Wol was formerly Chair of the £1 billion Guys and St Thomas' Foundation, one of the UK's largest medical endowments, and is also a member of the Scale Up Taskforce at the Department of Business, Energy and Industrial Strategy. He was appointed an Emeritus Governor of the London School of Economics in 2017 and received an honorary doctorate from the University of Exeter in 2014. Wol was awarded a CBE for services to financial services in the Queen's 2021 Birthday Honours.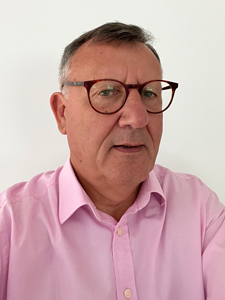 Deputy chair
Sir Andrew Morris, OBE, Hon FRCP
Sir Andrew Morris joined us as Deputy Chair of NHS England on 1 July 2022. Andrew joined the NHS Improvement board in August 2018 and served as the Chair of NHS Improvement between October 2021 to the abolishment of NHS Improvement in June 2022.
Sir Andrew has over 40 years' experience in NHS management and has held a range of senior NHS appointments. He was appointed General Manager of Frimley Park Hospital NHS Foundation Trust in 1989 and was the Chief Executive from 1991 to February 2018.
Sir Andrew managed the establishment of the Ministry of Defence Hospital Unit in 1996 and successfully led Frimley Park's application to become a Foundation Trust in 2005.
In 2014 he led the acquisition of Heatherwood and Wexham Park Hospitals NHS Foundation Trust to create Frimley Health NHS Foundation Trust. He is a member of the Institute of Health Service Management and an honorary fellow of the Royal College of Physicians.
He was knighted in January 2015 for services to public health.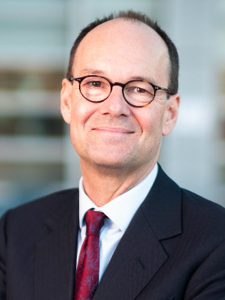 Non-executive director
Mike Coupe
Mike Coupe joined the Board of NHS England in January 2021. Mike was appointed CEO of Sainsbury's on 9 July 2014 and retired May 2020. Before that he was Group Commercial Director, with responsibility for Trading, Marketing, IT and Online. He became an Executive Director in August 2007 after joining the Sainsbury's Operating Board in October 2004.
He joined Sainsbury's from Big Food Group plc where he was a Board Director and Managing Director of Iceland Food Stores. He previously worked for both ASDA and Tesco, where he served in a variety of senior management roles.
Mike is currently Chairman of Oak Furniture Ltd, Harding Retail Group and New Look.
He was bought up in West Sussex and studied Physics at the University of Birmingham. He began his career as a Marketing trainee at Unilever.

Non-executive director
Rakesh Kapoor
Rakesh Kapoor has served as a non-executive director since January 2021.
Rakesh served as the Group Chief Executive of RB plc (Reckitt Benckiser) from 2011 to 2019. RB plc is a UK based Top 10 FTSE company with sales in over 200 countries and with more than 40,000 employees.
During his 8 years as CEO, Rakesh strategically repositioned the company away from a household cleaning company to a Global leader in Health and Hygiene. He was responsible for creating a mission driven company providing innovative solutions for people to be healthy and live better. The product portfolio transformed from just 20% of the business in Consumer Healthcare to over 60% now. The total shareholder returns during his tenure were 12% pa, more than double that of FTSE 100.
He is exceptionally proud of the RB 'Save a child a minute' program, which provided ground-breaking work in cutting by half the number of children under five dying globally from Diarrhoea.
Rakesh brings deep knowledge of consumer health and digital innovation in addition to his extensive commercial experience in a large global business.
During his 21 years at RB he served a variety of senior leadership management roles both in the UK and internationally.
His roles included: EVP, Category Development responsible for Global Marketing, R and D, Strategy, Senior Vice President and Regional Director, Northern Europe and Marketing Director, South Asia and VP Marketing, India.
Rakesh was educated in India and holds an MBA in Business Administration and a Bachelors in Engineering (Hons).
Non-executive director
Susan Kilsby
Susan S. Kilsby joined the Board of NHS England in January 2021. She is the Chair of Fortune Brands Home and Security and is the Senior Independent Director and Chair of the Remuneration Committee at Diageo. She is also a non-executive director of Unilever and of BHP, where she chairs the Remuneration Committee, and is a member of The Takeover Panel in the UK. Mrs. Kilsby previously served as Chairman of Shire plc until its sale in January 2019 to Takeda and served on the boards of BBA Aviation, where she was Senior Independent Director and Remuneration Committee Chairman, Goldman Sachs International, Coca-Cola HBC AG, Keurig Green Mountain, where she chaired the Audit Committee, and L'Occitane SA, where she chaired the Remuneration Committee. From 2009 through 2014, Mrs Kilsby was as Senior Advisor at Credit Suisse where she focused on senior level coverage of global corporations.
Mrs. Kilsby joined The First Boston Corporation, a predecessor company of Credit Suisse, in 1980, working in the Mergers and Acquisitions Group in New York until 1992. She later moved to London as Head of Credit Suisse's European Consumer, Retail and Services group in Investment Banking and from 2002 until 2007 was Head of Mergers and Acquisitions and Strategic Advisory for EMEA and later Chairman, prior to being named a Senior Advisor.
In 2007, Mrs. Kilsby was recognised by by both forbes.com and Financial News as one of the Top Ten Women in Finance and was again recognised by Financial News each year from 2008 through 2011. From 2010 to 2013 she was Chairman of the international region of C200, an organisation composed of leading women in business globally, and was a founding member of the Competitor Diversity Forum in London. Mrs. Kilsby is a Senior Visiting Fellow of Cass Business School in London and Chairman of the M and A Research Centre at Cass. She is a member of Wellesley College's President's Advisory Council and its Business Leadership Council, serves on the Board of Advisors the Gordon A Rich Foundation, the Advisory Board of the Diligent Institute and acts as a Senior Industry Advisor for Star Mountain Capital.
Mrs. Kilsby received her B.A. from Wellesley College in 1980 in Economics and an M.B.A. from the Yale School of Management in 1984. In 2016 she received a Doctor of Science (honoris causa) from The City University London.
Non-executive director
Professor Sir Munir Pirmohamed
Professor Sir Munir Pirmohamed has served as a non-executive director since January 2019.
Munir is currently David Weatherall Chair in Medicine at the University of Liverpool, and a Consultant Physician at the Royal Liverpool University Hospital.  He is Director of the MRC Centre for Drug Safety Sciences, and Director of the Wolfson Centre for Personalised Medicine. He is also an inaugural NIHR Senior Investigator, and Fellow of the Academy of Medical Sciences in the UK. He is also Commissioner on Human Medicines for the MHRA. He has authored over 500 peer-reviewed publications, with research focusing on genomic and non-genomic technologies that can be developed and used to progress the field of personalized medicine in an evidence-based, cost-effective and equitable manner.
Non-executive director
Jeremy Townsend
Jeremy Townsend joined the Board in October 2020 and is the chair of the Audit and Risk Assurance Committee.
Jeremy has recently retired from his position of Chief Financial Officer of Rentokil Initial PLC after ten years with the Group. He was previously Group Finance Director of Mitchells and Butlers PLC and prior to that held various senior finance positions at J Sainsbury PLC. Jeremy started his career at Ernst and Young LLP and is a fellow of the Institute of Chartered Accountants of England and Wales (ICAEW). He is also a Non-Executive Director, Chair of the Audit and Risk Committee of PZ Cussons PLC, is a Trustee of parkrun Global and is interim Chief Financial Officer for Marks and Spencer.
Non-executive director
Sir David Behan
Undertaking voluntary work with single homeless people whilst at school in the mid-1970s provided David with the beginning of the 'golden thread' that has run through his career -the commitment to make a contribution to a more socially just society. Initially this was as a social worker and over a twenty-five-year period he worked in five Local Authorities leading three as Director of Social Services.
He was President of the Association of Directors of Social Services in 2002.
In 2003 he became the first Chief Inspector of the Commission for Social Care Inspection. In 2006 he became the first Director General for Social Care in the Department of Health in England advising Ministers of both the Labour and Coalition Governments. During this period, he was responsible for a range of policy areas including social care reform and the development of the first dementia strategy for England.
As CEO of the Care Quality Commission from 2012 to 2018, he led a fundamental reform of the way health and care services were regulated.
From 2018 he has held several Non-Executive Director and Advisor roles with a number of public and private organisations across the health and social care system which currently include: Cera Care, HC-One limited, the London School of Economics Care Policy Evaluation Centre, the Catholic Safeguarding Standards Board and the international Sciana Leadership Programme. Between 2018 to 2023 he has chaired the Board of Health Education England. He is a Non-Executive Director of NHS England chairing the Workforce, Training and Education Committee.
Non-executive director
Baroness Mary Watkins
Mary joined the NHS England Board in January 2023.
She is a General and Mental Health Nurse with a Master's Degree in Nursing and a PhD. She has held several clinical and higher education appointments.
Mary was Dean of Health Studies and Senior Deputy Vice-Chancellor of Plymouth University, roles which involved development of the Peninsula Medical and Dental Schools.  She has held several non-executive board posts including as Deputy Chair of the South-West Ambulance NHS Foundation Trust.
As Alternate Chair of Nursing Now, a global initiative to raise the profile of nursing, Mary co-chaired the WHO Review of the State of the World's Nursing in 2020.   She recently chaired the HEE Mental Health Nursing Workforce Review and the National Wound Care Strategy Programme (NHS England).
Mary holds an Emeritus Chair in Healthcare Leadership at Plymouth University, is a Visiting Professor of Nursing at King's College, London and is a Fellow of the Royal College of Nursing.
She currently chairs Look Ahead, a housing association that specialises in supporting vulnerable people, providing sheltered homes and services for homeless clients.
Mary was appointed as a Cross-Bench Life Peer in 2015 and is now a Deputy Speaker in the House of Lords.
Non-executive director
Professor Sir Simon Wessely
Sir Simon Wessely FMedSci FRS is the Interim Dean of the Institute of Psychiatry, Psychology & Neuroscience at King's College London, where he is also the UK's only Regius Chair of Psychiatry. Since 1991 he has been a Consultant Psychiatrist at the South London and Maudsley and also King's College Hospital NHS Foundation Trusts.
After medical training at Oxford he obtained the MRCP in Newcastle, before moving to London to train in psychiatry at the Maudsley. He is an active clinical academic psychiatrist and was elected to the Academy of Medical Sciences in 1999, and became a Fellow of the Royal Society in 2021. He is a Past President of the Royal College of Psychiatrists (2013-17) and the Royal Society of Medicine (2017-2020).
After a Master's and Doctorate in epidemiology, he founded the King's Centre for Military Health Research. He remains the Honorary Consultant Advisor in Psychiatry to the British Army, and works with several charities for Veterans. Sir Simon chaired the government's Independent Review of the Mental Health Act between 2017-19. He was the Director of the PHE NIHR Health Protection Research Unit for Emergency Preparedness and Response, which has been very active during the COVID-19 crisis, and continues to have a broad interest in how people and populations react to adversity and  occupational health and well being.
Non-executive director
Professor Sir Mark Walport
Professor Sir Mark Walport joined the Board of NHS England in January 2023. He is Honorary Distinguished Professor of Medicine at Imperial College and chairs Imperial College Health Partners and Imperial College Academic Health Sciences Centre. He is a trustee of Health Data Research UK.
He trained as a clinician scientist in Cambridge and London, and spent most of the first 25 years of his career as a practising rheumatologist and general physician. He became Professor and Head of the Division of Medicine at Imperial College in 1997.
In 2003 he was appointed Director of the Wellcome Trust, in 2013 Government Chief Scientific Adviser and in 2017 founding CEO of UK Research and Innovation. As the government chief scientific adviser, he advised on science, technology and engineering for many aspects of government policy. He chaired the scientific advice group in emergencies (SAGE) during the Ebola and Zika epidemics. He was appointed a member of the Prime Minister's Council of Science and Technology (CST) in 2004, and co-chaired CST during his time as government chief scientific adviser. He was a founding Fellow and the first Registrar of the Academy of Medical Sciences, and is a Fellow and council member of the Royal Society and an Honorary Fellow of the Royal Society of Edinburgh.
Executive directors
NHS England's executive directors are:
NHS chief executive
Amanda Pritchard
Amanda Pritchard is Chief Executive Officer (CEO) of NHS England, which leads the NHS' work nationally to improve health and ensure high quality care for all. She is also accountable to Parliament for the NHS' £130 billion of annual funding.
Her prior role was NHS England and NHS Improvement's Chief Operating Officer (COO) and NHS Improvement's Chief Executive. As COO, Amanda oversaw NHS operational performance and delivery, as well as implementation of the service transformation and patient care improvements set out in the NHS Long Term Plan.
Amanda was previously Chief Executive of Guy's and St Thomas' NHS Foundation Trust from January 2016 to July 2019, having been Acting Chief Executive since October 2015. Prior to that she served as Chief Operating Officer at the trust for three and a half years.
Amanda joined Guy's and St Thomas' from Chelsea and Westminster NHS Foundation Trust where she spent six years as Deputy Chief Executive, having previously held a variety of senior strategic and operational management roles there, including Director of Strategy and Service Development. Amanda joined the NHS through its graduate management training scheme in 1997 and has held a variety of other NHS management positions since then. She has also served as health team leader in the Prime Minister's Delivery Unit.
Chief financial officer
Julian Kelly
Prior to joining the NHS Executive Group, Julian was Director General Nuclear, leading the Defence Nuclear Organisation at the Ministry of Defence.
Previously he was Director General of Public Spending and Finance at HM Treasury, and has held a number of other senior roles including with the UK Border Agency, and in the private sector with HSBC.
He is a qualified chartered accountant and member of Chartered Institute of Management Accountants (CIMA).

National medical director
Professor Sir Stephen H Powis
Since the start of 2018 Stephen has been National Medical Director of NHS England. He is also Professor of Renal Medicine at University College London. Stephen was appointed Interim NHS Improvement Chief Executive Officer on 3 August 2021.
Previously he was Medical Director (and latterly Group Chief Medical Officer) of the Royal Free London NHS Foundation Trust from 2006 to 2018. Professor Powis was also a member of the governing body of Merton Clinical Commissioning Group for five years and a Director of Healthcare Services Laboratories LLP.
He is a past chairman of the Joint Royal Colleges of Physicians Training Board Specialty Advisory Committee for Renal Medicine and a former board member of Medical Education England. He was Director of Postgraduate Medical and Dental Education for UCL Partners from 2010-13.
He is a past treasurer and trustee of the British Transplantation Society and a former member of the UK Transplant Kidney Pancreas Advisory Group.
Chief nursing officer, England
Dame Ruth May
Ruth is the Chief Nursing Officer for England and an executive/national director at NHS England. She is also the national director responsible for infection prevention and control.
Ruth was appointed following her roles as Executive Director of Nursing at NHS Improvement, which commenced in April 2016, and Director of Nursing at Monitor, the healthcare sector regulator.
Prior to joining Monitor, she was Regional Chief Nurse and Nurse Director for the Midlands and East region of NHS England, where she championed the 'Stop the Pressure' campaign, which nearly halved the number of pressure ulcers in the region, improving care for patients, as well as delivering cost savings to the NHS.
Ruth is passionate about nurturing the next generation of NHS nursing, midwifery and AHP leaders, encouraging professional development opportunities and working across the health system to put in place the optimal cultural conditions for all NHS employees to thrive. This includes advocating for improved mental health awareness in the workplace, championing volunteer activity to support the frontline workforce and being a vocal supporter of the WRES agenda and increased diversity across the NHS.
Ruth began her career with a variety of nursing roles before becoming a theatre sister at Frimley Park Hospital. She was Acting Director of Nursing at Barnet Hospital before being appointed the substantive Director of Nursing and Deputy Chief Executive with Havering Primary Care Trust.
In October 2005, she became Chief Executive of The Queen Elizabeth Hospital, King's Lynn, a post she held for two years. She has also been Chief Executive of Mid-Essex Hospital Services NHS Trust.
In June 2022, as part of the Queen's Platinum Jubilee Honours, Ruth was awarded a DBE for her services to nursing, midwifery and the NHS since she started her nurse training in 1985.