Pharmacy Quality Payments Scheme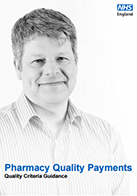 'Pharmacy Quality Payments – Quality Criteria Guidance' provides information to contractors on how to take part in the Community Pharmacy Quality Payments Scheme. The scheme will reward community pharmacies for delivering quality criteria in all three of the quality dimensions: clinical effectiveness, patient safety and patient experience.
The Quality Payments Scheme is part of the Community Pharmacy Contractual Framework announced by the Department of Health in October 2016.
The scheme encourages a range of activities, carried out by community pharmacists for the first time, designed to widen their role beyond dispensing to improving the quality of health care for patients while at the same time helping to ease demand on other areas of the health system.
The scheme will set the community pharmacy sector development targets including:
More effective treatment of asthma – referring asthma patients who have been dispensed too many short-acting reliever inhalers without any preventer inhaler for an asthma review.
Better care for people with dementia – as part of the drive to ensure 80% of all pharmacy staff working in patient-facing roles take part in the Alzheimer's Society's Dementia Friends training.
Increased support for healthy living – so there is a Royal Society of Public Health trained health champion in every community pharmacy, and ensuring each community pharmacy obtains the Healthy Living Pharmacy Level 1 status.
For a pharmacy to become eligible for any payment under the Quality Payments Scheme it must first meet four gateway criteria.
The Pharmacy Quality Payments – Gateway Criteria Guidance outlines the first steps which community pharmacies across England need to take to prepare for the new Quality Payments Scheme which runs from December 2016 to March 2018.
The guidance outlines the requirements for achievement of the four gateway criteria and also details some of the activity that NHS England is organising to support pharmacies in achieving the criteria; by developing the NHS Choices website to make it easier and clearer for pharmacies to update their NHS Choices entry; and making NHS.net email accounts more accessible.
The Pharmacy Quality Payments – Quality Criteria Guidance provides information to contractors on how to claim quality payments, provide further clarification on gateway criteria and to provide information for contractors to help them demonstrate that they meet any of the eight quality payment criteria.
How to check your pharmacy NHS 111 Directory of Services (DoS) entry and make a submission to qualify for a Quality Payment.
Further information for pharmacies who self- assess themselves as meeting the requirements of a level 1 Healthy Living Pharmacy Healthy Living Pharmacy as defined by Public Health England after 28 April 2017 will be published here in due course.