Pharmacy Quality Payments Scheme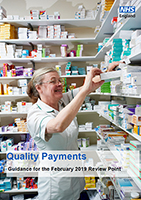 Quality Payments – Guidance for the February 2019 Declaration – provides information to contractors on how to claim quality payments and demonstrate that they meet any of the seven quality payment criteria for the February 2019 declaration. This guidance document is to be read in conjunction with the Pharmacy Quality Payments – Gateway Criteria Guidance and the Pharmacy Quality Payments – Quality Criteria Guidance below.
There are approximately 11,700 pharmacies in England. Since April 2017, over 90% of pharmacies – 11,410 pharmacies – have taken part in this pharmacy quality scheme.
The scheme sets the community pharmacy sector development targets including:
More effective asthma management – referring asthma patients who have been dispensed multiple short-acting reliever inhalers without any preventer inhaler for an asthma review.
Better care for people with dementia – to promote the drive to ensure 80% of all pharmacy staff working in patient-facing roles take part in the Alzheimer's Society's Dementia Friends scheme.
Increased support for healthy living – to ensure there is a Royal Society of Public Health trained health champion in every one of the 9,474 Level 1 Healthy Living Pharmacies across England.
Three guidance documents have been produced to support pharmacy contractors with the Quality Payments Scheme. The Quality Payments – Guidance for the February 2019 Declaration above and the two documents below:
The guidance documents to support contractors with the November 2017 and June 2018 declarations have been removed from this webpage as they have been superseded, if you would like a copy of this please email: ENGLAND.CommunityPharmacy@nhs.net.