NHS Shared Planning Guidance
NHS Operational Planning and Contracting Guidance 2017 – 2019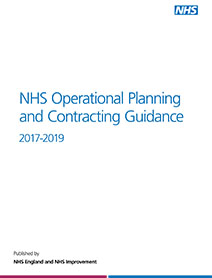 NHS England and NHS Improvement have published this year's operational and contracting planning guidance three months earlier than normal to help local organisations plan more strategically.
For the first time, the planning guidance covers two financial years, to provide greater stability and support transformation. This is underpinned by a two-year tariff and two-year NHS Standard Contract.
It provides local NHS organisations with an update on the national priorities for 2017/18 and 2018/19, as well as updating on longer term financial challenges for local systems.
This is an updated version of the document published on Thursday 22 September. This includes a small number of minor corrections. Details of the changes are listed in Corrections to the NHS Operational Planning and Contracting Guidance 2017-2019.
View a timetable for future dates
The timetable has been updated on 11 November 2016 to reflect the new 6 December 2016 deadline for the closure of the s118 National Tariff consultation and the publication of the:
This year's planning guidance includes the following annexes:
The Government Mandate to NHS England: Summary 2020 Goals
CCG improvement and assessment framework
NHS Improvement single oversight framework
October guidance to Sustainability and Transformation Plans
NHS England and NHS Improvement Approach to Establishing Shared Financial Control Totals
General Practice Forward View planning requirements
Cancer services transformation planning requirements
Mental health transformation planning requirements
Key facts
The planning process has been built around Sustainable Transformation Plans so that the commitments and changes coming out of these plans translate fully into operational plans and contracts
The timetable has been brought forward to enable earlier agreement locally about contracts
Adjustments have been made to national levers such as tariff and CQUIN to support local systems in implementing service transformation
In line with our expectation of greater collaboration between organisations locally, there will be a single NHS England and NHS Improvement oversight process providing a unified interface with local organisations to ensure effective alignment of CCG and provider plans.
Technical guidance for NHS planning 2017/18 and 2018/19
Annexes:
Technical definitions for annex E:
Linked publications and information
Previous shared planning guidance