There are some excellent examples of participation happening across the voluntary sector, in local communities. Many organisations are showcasing their work so that others can learn from their experiences and you can access some of the resources they have produced below.
Listening to people with lived experience of care services

Over2you is a project run by South Yorkshire Housing Association which has been working with volunteers to gather the experiences of people who have used health and social care services across the north of England. In this short film they explain how they gathered feedback on how services can be developed to better meet the needs of the people who access the services and their carers.
Working with learning disability advocates to develop services
A team of self-advocates living with learning disabilities has been getting involved with local health services in Hull. The Hull 'Self-advocates Forum, supported by Mencap, gives its views and suggestions, on a range of healthcare subjects, so that products and services can be more useful to people living with a learning disability. They show the impact their work is having in a short film about a project with the Wellbeing team at the Hull City Healthcare Partnership, which has resulted in the development of a new 'health check' booklet.
Working with the homeless community to improve health and wellbeing
St George's Crypt is a charity that works with homeless people in Leeds to improve many aspects of their lives, including health and wellbeing. Clients come to the crypt and tell staff about the services they are having problems accessing or the things they would like to be involved in. The crypt works in partnership with other organisations including Leeds Beckett University, NHS organisations and the city council to bring in the services needed. They have produced a film that highlights some of the successes of their joint work, including making physiotherapy and exercise classes available to homeless people.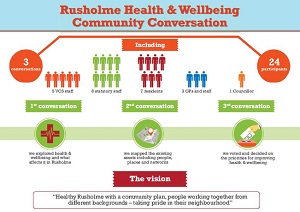 Using community conversations to develop a health plan
In Rusholme, Manchester, 'Healthy Me Healthy Communities' has been working with residents, patients and a range of partners to produce a health plan for the whole community. It has done this by holding community conversations that put people at the heart of the process. They have developed visual guides, including an infographic and booklet for other people who want to replicate the process in their area.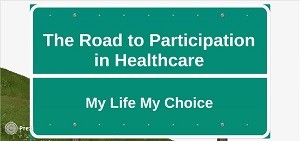 Improving NHS services for people with learning disabilities
My Life My Choice is a self-advocacy organisation in Oxfordshire, run by and for people with learning disabilities. It has carried out a number of projects that have been successful in making sure the voices of people with learning disabilities are heard and respected within the NHS. They have shared their stories of success in this timeline of films, blogs and images so that others can learn from their experiences.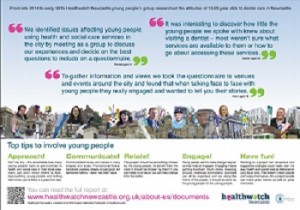 Understanding young people's experiences of health services
In Newcastle a young people's Healthwatch group has been developed to understand children and young people's experiences of using health and social care services. It has highlighted that dental care and mental health services are priorities for young people and that they need easily accessible information. The young people's group has produced promotional resources to show how it is helping to shape dental services in Newcastle.
Improving mental health outcomes in Brighton and Hove
Mind Brighton and Hove's 'Live' project is all about improving the wellbeing of people with mental health issues by enabling them to get their views heard to improve services. The project consulted with people from across Brighton and Hove to help develop the city-wide 'Happiness Strategy', alongside other local engagement groups.  In this short film they explain how they went about this and the positive outcomes the project is already having.
Giving young people with epilepsy a voice
Young Epilepsy has been working with children and young people with epilepsy to better understand their experiences of using health and wider services, and to enable them to influence the care they receive.  Working together with their project partners, and informed by the perspectives of service users, they produced a report that recommends integrating services across sectors and, above all, placing the child or young person at the centre. Using drawings and animations, the children and young people have developed a film to explain how they have been involved and had their say.
Gathering views to understand the impact of services
The NeuroMuscular Centre provides a range of services for people living with Muscular Dystrophy (MD). Each year it involves service-users in a social audit; asking their opinions about the impact the centre has had on their lives. By doing this the centre can understand the difference it is making and ensure it is meeting the needs of its service users. Service users have produced a film that explains more about the social audit and why it's important. Alongside this they have produced an easy to understand summary of the audit and are sharing the findings in a number of ways, including through social media.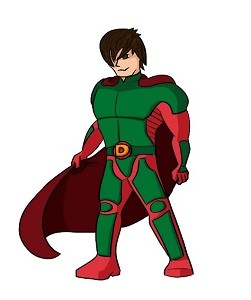 Self-advocate 'super heroes' leading the way in good practice
A self-advocates' forum for people with learning disabilities in York is speaking up on issues that affect them. The forum has been working with a range of organisations to develop good practice and highlight why people with learning disabilities should be involved in the health services they use. They developed a comic book, featuring super-hero advocates, based on real people and situations, who save the day and make positive changes to healthcare services and information.
York CVS – Ways to Wellbeing 
'Ways to Wellbeing', is managed by York Centre for Voluntary Service (CVS). It connects people who need health and wellbeing support, due to issues such as loneliness and isolation, with activities and services in their community through a GP 'social prescription' service. York CVS works with a range or charities and partners across the city to offer social prescriptions to people who use the Priory Medical Group practice.
It works using a referral system, where the GP, or primary health staff member, refers the person in need of support to York CVS' 'Ways to Wellbeing' coordinator. The coordinator meets with the customer and develops a programme of support based on their needs, which is matched against local services.
Ways to Wellbeing is based around the customer's needs, using a 'person centred' model that prioritises patient choice and the best outcomes for the customer. A recent evaluation of the project showed that 80% of customers experienced a greater sense of wellbeing and 75% had improved confidence. The Priory Medical Group has also reported a decrease of just under 20% in GP appointments` from those using the service, freeing up time so that GPs are able to support more patients. A short film about the project is available on YouTube