High quality, modern services
Cancer care radiotherapy upgrade programme
£130 investment in technology and equipment.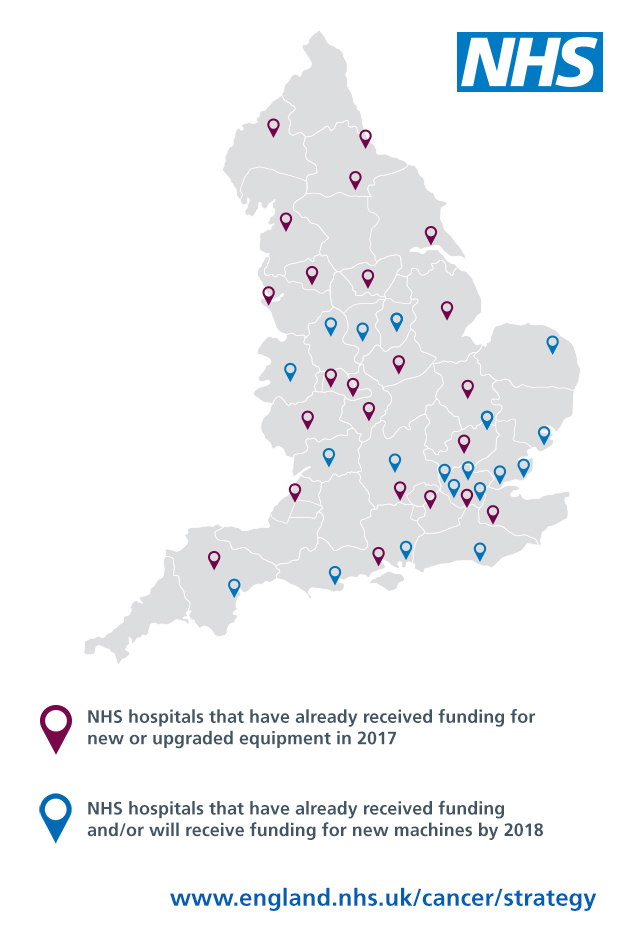 Achieving the very best outcomes will depend on the effort, dedication and passion of every part of the health and care service.
The change that we seek to make to patient outcomes will only be possible with a sustained focus on making sure we can deliver a high quality, modern service that meets the complex needs of patients.
The NHS should be at the cutting edge of technology and clinical innovation, and this work will help to make sure that we are delivering the world-class services that patients need.
Our priorities for 2016/2017 are:
In 2016, we will develop a clinical service and resource model for

 

modern radiotherapy services, and by December 2016 we will produce a revised radiotherapy service specification to put the model into practice.
We will develop

 

surgery service configuration

 

recommendations in line with the evidence base by June 2017.
By March 2017, we will develop proposals to

 

improve the transition of patients

 

between child and adult services. By September 2016, we will develop a proposal to ensure that all children, teenagers and young adults diagnosed with cancer are asked at diagnosis for consent for their

 

data and a tissue sample to be collected

 

for use in future research studies.
The procurement for a new

 

genomic laboratory

 

infrastructure for the NHS in England will begin shortly, inclusive of acquired cancers. The mainstreaming of genomics into the NHS will be a central pillar of a

 

Personalised Medicine Strategy

 

which will be considered by the NHS England Board.
To support the delivery of a single commissioning model for

 

molecular diagnostics, we will establish a reference group to identify tests that need to form part of a molecular diagnostic portfolio and to inform targeted therapeutic interventions. This will include prioritising new recommended tests, clarifying coding and pricing arrangements as appropriate, recognising the need to dovetail with the broader genomic developments in cancer.
By March 2017, NHS England will work with the National Institute for Health Research and the National Cancer Research Institute to build a programme of work to

 

support better cancer research,

 

in line with the Taskforce's recommendations. Within the year we will also focus on establishing priorities for research on outcomes for older people with cancer, and supporting the research community to pursue these.
Building on the Taskforce report, Health Education England (HEE) will

 

baseline the current state of the

 

cancer and related workforce, identifying gaps and drivers for those gaps. We will use the baseline, along with a projection of the future planned workforce based on current demand, to address capacity issues by developing an action plan by September 2016, including any plans for international recruitment.
We will

 

increase capacity in diagnostics, training a total of 200 non-medical endoscopists by 2018.
We will develop a vision by March 2017 for the

 

future shape and skills mix of the workforce required

 

to deliver a modern, holistic patient-centred cancer service, in particular focussing on the workforce needs highlighted in the review.
For more details, please see Achieving World Class Cancer Outcomes: Taking the strategy forward.