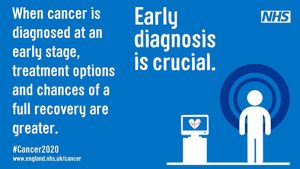 Earlier diagnosis makes it more likely that patients will receive treatments which can cure cancer. It saves lives.
The independent Cancer Taskforce set an ambition that 57% of patients would survive ten years or more by 2020, with 75% surviving one year. We will only meet this ambitious goal if we are serious about achieving earlier cancer diagnoses.
We will shift to faster and earlier diagnosis by increasing public awareness and understanding of the early signs and symptoms of cancer, encouraging people to come forward to healthcare services if they have concerns, and by making sure healthcare services can act swiftly to diagnose them.
Our priorities for 2016/2017 are:
The

 

National Diagnostics Capacity Fund

 

will award funding in early autumn 2016 to test more efficient diagnostic pathways.
We will test how to best deliver the

 

Faster Diagnosis Standard

 

with five local health economies in 2016/17, ready for roll out from 2017 onwards. This standard will mean that patients referred by their GP will find out whether or not they have cancer within 28 days.
We will move to full national roll out of Human papilloma virus (HPV) testing in the cervical screening programme and of Faecal Immunochemical Test (FIT) in the

 

bowel cancer screening

 

programme when these are both agreed to in Section 7A.
Public Health England will run a national

 

Be Clear on Cancer campaign

 

on respiratory symptoms, combining the existing lung cancer and 'breathlessness' campaigns.
Six pilots of

 

multidisciplinary diagnostic centres

 

for 'non-specific but concerning' symptoms will run over the next two years. We will work with Cancer Alliances to replicate good practice across the country.
For more details, please see Achieving World Class Cancer Outcomes: Taking the strategy forward.