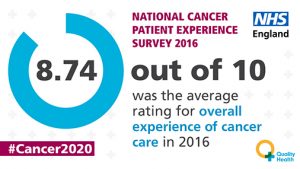 Everyone should be treated with care and compassion and be an equal partner in their care from the moment they see their GP with worries about cancer. We are absolutely committed to making sure patient experience is always considered as important as clinical effectiveness and safety.
We must make the most of opportunities to do things more efficiently, particularly where it also benefits patients. For example, investing in online access to test results and other communications.
Our case studies and animation show how cancer services are being transformed for our patients.
As we progress with carrying out the strategy, our plans will continue to be shaped by our conversations with patients, carers and families, as well as clinicians.
Our priorities for 2017/2018 are:
Better cancer survival: Within two years, more than 5000 extra people a year will survive cancer as compared to now.
Expanded screening to improve prevention and early detection of cancer: Early diagnosis is key to survival.  From April 2018 a new bowel cancer screening test will be introduced for over 4m people. From April 2019 a primary HPV testing for cervical screening will be introduced and will benefit over 3m women per year.
Faster tests, results and treatment for people with worrying symptoms: We will focus on the cancer 62 day from referral to treatment standard, ahead of the roll out of the new standard to give patients a definitive diagnosis within 28 days by 2020. Rapid Diagnostic and Assessment Centres will be introduced in 10 hospitals and by March 2019 we will rollout Centres in each of the 16 Cancer Alliances.
Access to modern cancer treatments in all parts of the country: building on the 23 new or upgraded radiotherapy machines delivered earlier this year, we will continue to roll out the largest radiotherapy upgrade programme in 15 years by October 2018. Over 50 radiotherapy machines in at least 34 hospitals will be rolled out over the next 18 months.  The NHS's first proton beam system was installed in the Christie Hospital in Manchester in June 2017.
For more details, please see Achieving World Class Cancer Outcomes: Taking the strategy forward.