General Practice Forward View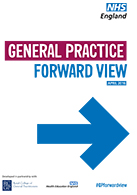 The General Practice Forward View (GP Forward View), published in April 2016, commits to an extra £2.4 billion a year to support general practice services by 2020/21.
It will improve patient care and access, and invest in new ways of providing primary care.
As part of this package NHS England is investing £500 million in a national sustainability and transformation package to support GP practices, which includes additional funds from local clinical commissioning groups (CCGs).
It includes help for struggling practices, plans to reduce workload, expansion of a wider
workforce, investment in technology and estates and a national development programme to speed up transformation of services. We are committing to an increase in investment to support general practice over the next five years.
The plan was developed with the Royal College of General Practitioners (RCGP) and Health Education England (HEE) and contains over 80 specific, practical and funded steps to:
The RCGP has appointed GP Forward View regional ambassadors who are making the case for investment in general practice in their areas to make sure that all practices and patients benefit from the increased funding and support.
General Practice Forward View – benefits to patients
From general practices, patients want high quality care provided by a familiar team of healthcare professionals who they know and trust and who know their medical history. They also want to be able to receive care in a timely fashion when they need it.  Some patients want to be partners in their own care. They want the knowledge, skills and confidence to take more responsibility for their health and to feel more in control of their outcomes.
The General Practice Forward View provides the support for practices to build the capacity and capabilities required to meet these needs, including support to adopt new ways of working (at individual, practice and network or federation level) and to develop different ways of managing clinical demand. In addition to increasing self-care, this includes the use of different triage methods and development of the broader workforce, or alternative services.
With changes in society and patients' needs, we will help general practice deliver more of its potential at the heart of the NHS. The Patient Journey animation explains this in more detail.
GP Forward View and Shared Planning Guidance
NHS England and NHS Improvement has jointly published the NHS Operational Planning and Contracting Guidance 2017-19. It provides local NHS organisations with an update on the national priorities for 2017/18 and 2018/19.
One of these priorities is the GP Forward View and the guidance outlines the planning requirements of clinical commissioning groups (CCGs) to support local implementation. CCGs have until 23 December 2016 to submit their GP Forward View plans to NHS England covering specific areas outlined in the guidance.
Subscribe to NHS England's GP and Practice Team bulletin
If you want to know more about what's happening in general practice, then register for our monthly bulletin, delivering all the latest news straight to your inbox. This bulletin is aimed at all staff working in general practice.
Subscribe to GP and practice team bulletin
Get involved

To join in the conversation on Twitter use
#GPforwardview