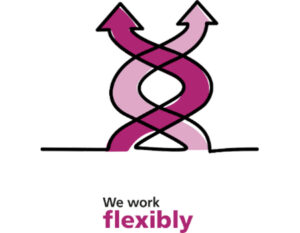 We work flexibly
As laid out in the NHS People Plan, the NHS will continue to commit to offering more flexible, varied roles and opportunities for different types of flexible working. We believe all our NHS people should be offered the chance to work flexibly, regardless of role, grade, reason, or circumstance.
We know it's not always immediately easy to accommodate individual work preferences, but becoming a more flexible, modern employer in line with other sectors, gives us the opportunity to retain our existing people and attract new talent with to work with us.
Flexible working is about more than just retention. It can unlock new opportunities and contribute to people's mental health, wellbeing and engagement with their role, and we know that in the NHS more engaged staff leads to better patient care.

How to enhance flexible working in your organisation

There are several things you can do right now to enhance the approach to flexible working in your organisation. We would recommend:
NHS England have created two flexible working guides, in collaboration with Timewise and NHS Staff Council. One for individuals and one for line managers. The guide for individuals will help prepare staff for positive conversations to make requests about flexible working and provide staff with the best chance of agreeing a solution that works for them, their teams and their organisations. The line manager guide offers support in how to lead a flexible team, helping managers to put structures and processes in place to support and encourage flexible workplace for all.
Revisit your flexible working policy and update it in line with our 'Flexible Working Definition and Principles' and with the 'NHS Terms and Conditions Handbook' to ensure staff and managers have access to the most up-to-date policies and offers. We will review the definition and principles over time and welcome any questions or feedback. Please contact the flexible working team to share your comments.
Communicate NHS Employers' guidelines for managers around flexible working across your organisations. These guidelines include what flexible working is and is not; how to respond to flexible working requests; advertising roles to promote flexible working patterns; and what to consider in leading a flexible workforce.
Explore how many of your organisation's roles are currently advertised as flexible. There are options on NHS Jobs and TRAC to clearly identify how a role might be carried out flexibly making it easier for potential applicants to identify what flexible opportunities are available.
Encourage staff to join the NHS Flexible Working Network. Aimed at those working in the NHS with an interest or curiosity about flexible working, the network brings discussion and insight to its members on a quarterly basis. Contact weworkflexibly@nhs.netto join. If you're working in the NHS, you can also access our futures page to find, share and explore further information and conversations about flexible working in the NHS
Analyse your own data from the staff survey. We have a question which specifically talks about satisfaction for opportunities for flexible working (pre-2021 Q5h, now Q4d). How do your staff feel about this? Are there particular groups of staff who are more, or less, satisfied? Has this improved over time? Other questions post-2021 that pertain to flexible working in your organisation are Q6b, Q6c and Q6d. For more information, please read our blog on this.
See what financial benefits flexible working might have using our flexible working cost calculator: the tool can be used to help organisations identify potential cost savings and measure return on investment from any retention initiative by calculating savings based on the additional costs to the organisation from bank and agency costs, and from recruitment costs when staff leave.
Flexible working case studies

You may find these case studies useful and inspiring when thinking about how to improve practices in your workplace.
Further reading