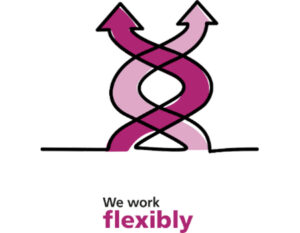 As set out in the NHS People Plan, the NHS needs to be bold and commit to offering more flexible, varied roles and opportunities for different types of flexible working. COVID-19 has also brought changes to the responsibilities of many of our staff outside of our careers, and changed the way we work for many. It also reinforced the importance of looking after our own health and wellbeing. We want to move away from outdated ideas that flexible working is primarily for women with children or caring responsibilities or that it can't work successfully in shift-based roles. We want all our NHS people the chance to work flexibly, regardless of role, grade, reason or circumstance.
We know it's not always immediately easy to accommodate individual work preferences, but becoming a more flexible, modern employer in line with other sectors, gives us the opportunity to retain our existing people and attract new talent to work with us.
Flexible working is about more than just retention. It can unlock new opportunities and contribute to people's mental health, wellbeing and engagement with their role, and we know that in the NHS more engaged staff leads to better patient care.
Carers UK estimates that approximately 72,000 people have left the NHS due to being unable to balance their work and caring responsibilities. In the 2020 NHS Staff Survey 32.3% of all those who responded identified as a working carer. Working carers make up 1:3 of our workforce.
A carer is someone who provides unpaid care and support to a family member or friend due to their disability, health condition, frailty, mental health problem, addiction or other health and care needs. This can be anything from collecting their shopping to more serious long term carer. If you're a carer, or supporting a working carer in your organisation, you can access practical tools, useful resources and support online.
Flexible working success stories

You may find these real examples useful and inspiring when thinking about how to improve practices in your workplace.
Events and programmes
We will  update this section regularly with new events and programmes to help develop your knowledge of how to implement flexible working practices in your organisation.
Past events
View details and recordings of our past events.
What initiatives can I take forward now?
We know that working flexibly is important for all our people and needs to be integral to the way we work. We also know that this requires a cultural shift, and won't always be easy.
There are several things you can do to enhance the approach to flexible working in your organisation. We would recommend:
Here are just a few changes to how our people work that emerged during COVID:
Virtual meetings: The average number of weekday remote meetings rose from 13,521 to 90,253 in weeks 1 to 8 of lockdown. This has allowed teams to run virtual multidisciplinary team meetings, case presentations and handovers, and teaching sessions. Many people across the NHS have noted that this has been more productive for them ‒ less time spent travelling (with the additional benefit of reduced air pollution) and better turnout at meetings, as well as improved work–life balance.
Action: Think about how you are planning to manage and improve remote working opportunities in your team or organisation.
Remote consultations: Digital transformation has developed rapidly across the NHS, with around 550,000 video consultations taking place in primary and secondary care, and 2.3 million online consultation submissions to primary care in June. Video consultations are now used widely, including in community and mental health services, and in ambulance services. This has enabled staff across primary, community and secondary care to work differently, with some choosing to work fully or partly from home.
Action: Think about how sustainable remote consultations are for you, and what you could do better.
Updated flexible working guidelines: NHS Employers has published a standard set of guidelines for managers around flexible working including what flexible working is and is not; responding to flexible working requests; advertising roles to promote flexible working patterns; and what to consider in leading a flexible workforce.
Action: Think about how you can better support and educate your managers around handling flexible working requests, during COVID and beyond.
Enabling Staff Movement: Our people move around the NHS regularly for career development and to deliver care where it is needed most. The Enabling Staff Movement programme within NHS England and NHS Improvement is working on ways to enable this movement to happen swiftly, smoothly and safely.  The programme has published an Enabling Staff Movement Toolkit to help NHS organisations and local/regional systems to share staff safely. The programme is also developing digital staff passports to support the safe movement of our people. The first step in this journey is the development of the COVID-19 Digital Staff Passport, which is currently live and being piloted. More information can be found on our website. If you would like to get involved e-mail us on nhsi.digitalstaffpassport@nhs.net.
Action: ensure you have a workforce sharing agreement or memorandum of understanding that is in line with guidance in the toolkit and consider getting involved in the NHS COVID19 Digital Staff Passport.
Help us to help you
Do you have a success story or resource to share? Please contact us and let us know so we can make it available for everyone.
Further Reading