Louise Kirk – Clinical Educator for Surgery at Nottingham University Hospitals NHS Trust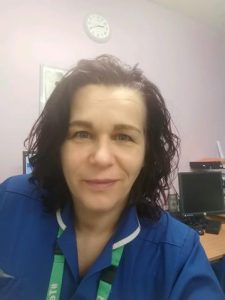 Louise usually works as a Clinical Educator for Surgery at Nottingham University Hospitals (NUH), but with training days paused or cancelled due to the Covid-19 pandemic, she has been supporting from a clinical perspective working on the wards in Critical Care.
How have you been supporting the Covid-19 response and vaccine programme?
"As well as my role as a clinical educator (teaching mandatory training and welcome induction in the surgical division), during the pandemic we were asked to help clinically where staff are needed, such as on the wards or in critical care. I opted to work in critical care, pushing myself out of my comfort zone and although I was slightly anxious at the prospect of working in this area, I haven't regretted it one bit! Critical care staff are so supportive and I felt privileged to be in a position where I could help. This mostly entailed fundamental care such as washing a patient and mouth care which I am very passionate about. I also had the opportunity to learn some new critical care nursing skills such as taking arterial blood gases. I wish I had a critical care placement as a student nurse, if I had, my career may have taken another path. But I do love my role as a clinical educator, teaching is something I really enjoy.

"Every year I sign up to help with flu vaccinations which I really love doing, so when the opportunity came to help with the Covid-19 vaccinations, I quickly jumped at the chance. I do this as extra however through NHSP bank shifts at the weekend. I know this means working 6 days a week along side my day job but I really enjoy the vaccination shifts
What have you enjoyed most about being involved in the vaccination programme?
When we first rolled out the vaccinations in December, we were vaccinating the over 80s and I can't tell you how emotional this was for everyone! Every patient that came for their vaccination told us how it was their first time out and they dressed up for the occasion! All the people that attended were so grateful and couldn't thank us enough. I loved listening to their stories but was also able to be the person that comforted them when they shared their stories of grief. I have a sense of pride and privilege to be in this position knowing that I am part of helping to get life back to normality. The vaccination team I work with also share the same views, I have made new friends! We are a fantastic team who support each other, we all want to see our communities vaccinated and potentially save lives. The team is well led and runs very efficiently.
Tell us more about the Covid-19 stories you've been sharing 
I started the hashtag #CovidStories because what we are doing today is making history. It will be something that we can look back on in years to come and hopefully this will be the legacy that I leave behind when it's time for me to depart this world. These stories will be retold for generations to come.
One of my most memorable days was a 90 year old very well dressed gentleman who came in for his vaccination on his 90th birthday! We all sang happy birthday to him, but what was even more memorable and remarkable is that he knew his NHS number without looking at his card!
One young gentleman said he no longer had a fear of needles after his vaccination because he said 'I was so gentle and he didn't feel a thing.'
A funny moment was when an elderly lady asked me if it was the 'Pizza' vaccine. I smiled behind my mask and said 'do you mean the Pfizer?' – 'Ooh yes that's it' and we both giggled.
When you see lots of people, you also see patterns, and on one particular day, I vaccinated three ladies named Margaret and four ladies named Patricia, then on another day I vaccinated six Margarets, six Michaels and six Marilyns!
Valentine's Day was a great day to vaccinate, we saw many couples arriving for their vaccinations who shared how long they had been married and how it was the best Valentine's present! I don't think I have done a shift without shedding a little tear from some of the stories I've heard, most of them are so heart-warming.
With national lockdown, people cannot go out, so working at the weekend for me serves two purposes: 1) it's a day out, it's rewarding  and I really enjoy it. 2) I'm doing something that is useful and part of the global recovery to getting life back to normal.  I think it's also helped my mental health in a big way because I feel a huge satisfaction and accomplishment on vaccination days knowing that  my fellow vaccinators and I are doing a great service.
I think it's important for everyone to  share these stories so when this crisis is over, Team NUH can look back and see how we all pulled together in a crisis to help. Teams helping teams and divisional nurses rolling their sleeves to work nights. We have some remarkable staff working at NUH who put patients first. Every single staff member is doing their absolute best, even though they are tired and at times feel overwhelmed. I too sometimes feel overwhelmed but know that better days are ahead so I hang on to that! I enjoy what I do and will continue to do so until the crisis is over.