Sadia Iqbal – Biomedical Scientist at The Royal Wolverhampton NHS Trust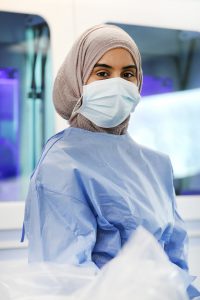 Sadia joined the New Cross Hospital pathology services following a move from Walsall Manor Hospital, as the services started working more closely together. This was under the umbrella of Black Country Pathology Services (BCPS).
Having recently qualified, Sadia has been busy supporting the Trust's Microbiology Team with Covid-19 testing; handling test samples and pushing them through an analyser before the results are processed and passed back to the clinical teams.
Since working within BCPS, she has worked her away around the different areas of microbiology – learning more and advancing her skills – before specialising in medical microbiology. This means aiding the diagnosis and management of infectious diseases and helping to ensure the safety of those at risk of acquiring infectious diseases.
Sadia said: "What I love about the role is the impact we have, albeit behind the scenes, on patients and the care they receive. Our work shapes their diagnoses and treatment, and this plays a massive part in ensuring positive health outcomes.
"It's been a challenging year but it's been a great effort by the whole pathology team. I'm really proud to be able to play an active part in the Covid-19 response and to be helping to keep our staff, patients and local communities safe."