Amanda Callow – Deputy Director of Nursing at NHS England and NHS Improvement (Midlands)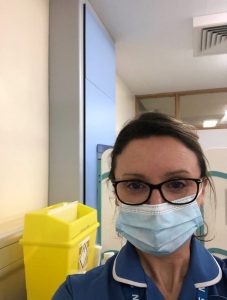 Some of our regional nurses have been deployed during the Covid-19 pandemic to use their skills to support frontline colleagues around their day jobs.
Our Deputy Director of Nursing, Amanda Callow, has been supporting the Covid-19 vaccination programme by administering vaccinations to patients and NHS staff at Nottingham University Hospital (QMC). Amanda has also been doing shifts at the QMC to help in their Bereavement Centre throughout the pandemic.
Amanda said: "I work with a brilliant team of nurses, doctors, pharmacists and receptionists. I have vaccinated lots of different people – over 80 years olds, care home workers and lots of staff – working in ED, critical care and all over the hospital."
"It has been really rewarding to help colleagues and those member of the public who are particularly vulnerable."