Clinical entrepreneur training programme
Applications for the clinical entrepreneur training programme are now closed
The clinical entrepreneur training programme is designed to offer opportunities for clinical, NHS staff and wider health professionals to develop their entrepreneurial aspirations during their clinical training period.
The programme offers:
Time for entrepreneurial activity – individual discussions to explore appropriate options such as less than full time training, annualised job planning, time out from clinical duties.
Mentoring and coaching – from an acclaimed international faculty including commercial, financial, clinical, academic, managerial, third sector and public sector leaders and achievers.
Entrepreneurial placements/internships – with industry, third sector, social enterprises and public sector organisations with both partner funded and self-funding options.
Facilitation of relationships with commercial organisations to develop their business and procurement knowledge.
Education – commercially relevant opportunities including expert webinars, video content, e-learning and flexible university interoperable/recognised accredited modules that can be used towards PGCert, PGDip, Masters and undergraduate/intercollated qualifications for interested students.
Pit Stop educational events focused on creating successful start-up businesses held throughout the year.
Bringing together complimentary high value programmes e.g. ENTIQ, NHS Innovation Accelerator, AHSN, Health box, Rock Health, Leo Innovation Labs, Startup Health.
Funding – signposting, finding, connecting to investment sources.
Networking events – regional and national events coordinated through AHSN and other organisations.
Year 4 launch
The year 4 application process was open from 4-29 March 2019.
For anyone who missed our applicant webinars you can view the recordings here:
Background
It is challenging for traditional clinical practice and training to keep pace with the drivers for change, and through the clinical entrepreneur training programme we can engage with clinicians as future leaders of the NHS.
The clinical entrepreneur training scheme concept was set out at Health and Care Innovation Expo 2015. NHS England and Health Education England then worked closely with doctors, academics and industry partners to develop the programme.
A year later, at Health and Care Innovation Expo 2016, the clinical entrepreneur training programme was launched, with some of our first cohort of fellows demonstrating how they will work with partners across health and care to lead innovative work.
Establishing the first national level training programme for clinical entrepreneurs, enables us to support and retain these clinicians, equipping them with the skills, knowledge, experience and leadership capacity needed to deliver on the promise of digital health, genomics, data analytics, advanced technology and social networks for the NHS.
Retaining this talent pool drives up the quality of clinical care delivery and directly impacts the NHS's contribution to the economic growth agenda.
The wider partnerships supporting the programme are:
Health Education England – (lead on behalf of the English Deans)
National Institute for Health Research
General Medical Council
Cabinet Office
UKTI/Healthcare UK
Innovate UK
AHSN networks
NHS Providers
NICE
MoD
Public Health England
NHS Improvement
NHS Digital
For the first year of the programme, focused on doctors, we received over 160 expressions of interest, 130 formal applications and have appointed 104 clinical entrepreneurs. Of candidates appointed to the scheme, 15 per cent are returning to work in the NHS having previously left to work in the commercial sector.
The first training programme began in September 2016. Already, all clinical entrepreneurs have been matched to industry mentors, one in five have negotiated successfully with their Training Programme Director and Postgraduate Dean for either an Out Of Programme Experience (OOPE) or Less Than Full Time Training (LTFTT), and plans are advancing for industry internships.
Trainee support
The training programme is being run on the Pinipa platform. This is used by Microsoft to run their global accelerator network and has been provided free of charge. This secure, private platform has multiple functionalities including:
Personal home page for each Clinical Entrepreneur
Holds their PDP and tracks how this is fulfilled/develops throughout the year
Provides links to all the educational events and resources of the programme
Allows professional networking between clinical entrepreneurs and programme mentors
Signposts to education/networking/funding opportunities
Records the four mentor/mentee meetings during the year, documenting agreed milestones and sign off of achievements
Allows prospective analysis of programme metrics – events attended, new connections and partnerships, funding raised and most importantly the Patient Impact forecast.
Year 3 launch
The 2018 application process opened on 5 March 2018. In addition to Doctors, Dentists and Healthcare Scientists, places on this prestigious programme were also offered, through competitive process, to Nurses and Midwives, Allied Health Professionals, and Pharmacists who are developing clinical innovations and enterprises to improve patient care and support service redesign.
The application portal was accessible from our portal page between 5 – 31 March. Interviews took place throughout May-July in Leeds and London. Successful applicants will start the programme from September 2018.
End of Year Event 2019
We hosted our end of year event on 24 July at The Royal Institute, London. This event marked the completion of the third year of the programme and celebrated the achievements of the current Clinical Entrepreneurs. Twelve of the Clinical Entrepreneurs gave their two minute pitch. There was also some reflection on the support they have received and the progress they have made during their time on the programme.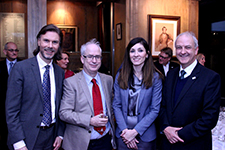 Sponsors' dinner
On Monday 8 December 2017 we held a dinner at the Royal Society of Medicine to welcome the sponsors of the Clinical Entrepreneur Programme.
The dinner was co-hosted by Sir Bruce Keogh (National Medical Director, NHSE)  and Simon Wessely (President, Royal Society of Medicine).