Artificial Intelligence in Health and Care Award
The Artificial Intelligence (AI) Award is run by the Accelerated Access Collaborative (AAC) in partnership with NHSX and the National Institute for Health Research (NIHR). It will make £140 million available over three years to accelerate the testing and evaluation of the most promising AI technologies which meet the strategic aims set out in the NHS Long Term Plan.
The Award will support technologies across the spectrum of development: from initial feasibility to evaluation within the NHS. The first award has focused on four key areas: screening, diagnosis, decision support and improving system efficiency.
The AI Award is part of the £250 million funding given by the Department for Health and Social Care to NHSX to establish an AI Lab aimed at improving the health and lives of patients
The Award forms a key part of the AAC's ambition to establish a globally leading testing infrastructure for innovation in the UK.
Calls for applications for the Award will run at least twice a year through an open competition to identify appropriate AI technologies for support into the NHS.
AI Award competition update
Round 2 applications
The second competition closed on 8 December 2020. We received more than 350 applications. Shortlisting will be completed in the new year and the winning technologies will be announced in May 2021.
Round 1 winners
The winners of the first award were announced by Matt Hancock, Secretary of State for Health, on September 8, 2020. A total of 42 awards were made across the four Phases. Find out more about the 10 Phase 4 winners here.
The winners for Phases 1 to 3 are available on the NIHR website.
Following the announcement, we are now working with the winners to finalise:
Site selection: matching appropriate NHS healthcare services to support the testing for each product.
Evaluation: ensuring appropriate evidence is collected to enable faster roll-out of the AI innovations into the NHS.
This map shows the NHS sites where the Phase 4 winners in Round 1 of the AI Award will be implementing their AI technologies through the award:
NHS AI Virtual Hub
This new community of practice is the central place to find information and connect with others about the award. The hub is hosted on the FutureNHS platform.
We encourage anyone considering applying to the award to join the AI Virtual Hub for details about who it is aimed at and why you should apply, an outline of the application and assessment process, and resources available to help.
AI Award innovations
AI technologies may have a variety of applications in health and social care. Below are some examples:
Health Promotion and Prevention:
Digital epidemiology and disease surveillance
National screening programs
Preventative advice
Self-management
Diagnosis and Treatment:
Symptoms checkers and decision support for differential diagnosis
Risk stratification
Prediction of deterioration
Personalised treatments
System Efficiency:
Optimisation of care pathways
Identification of resource requirements
Electronic roster system
Natural Language Processing for administrative tasks
The Award supports AI innovators and technologies across the spectrum of development: from concept through to initial NHS adoption and testing of the AI technology within clinical pathways. Below is an explanation of the four support phases available: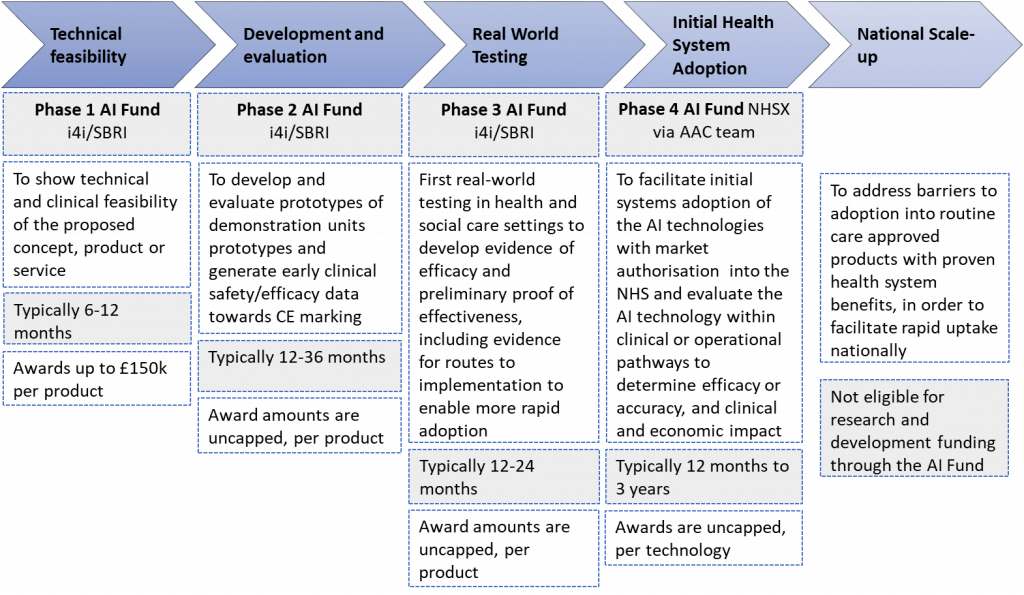 The Phase 1-3 AI Awards aim to develop a pipeline of products which are ready for wider testing in later years. The Phase 1-3 AI Award will be delivered through the well-established and robust mechanisms underpinning the i4i/SBRI Healthcare programmes.
Through the Phase 4 AI Award the AAC Delivery Team will facilitate initial systems adoption of the AI technologies into the NHS.
Phase 1 is intended to show the technical and clinical feasibility of the proposed concept, product or service. Awards are for a maximum of £150,000 over a 6-12 month period. If the Phase 1 project is successful, companies can bid for Phase 2, subject to budget availability.
Phase 2 is intended to develop and evaluate prototypes of demonstration units and generate early clinical safety/efficacy data. Award amounts are uncapped, funding awards are per product, typically for 12-36 months. If the Phase 2 project is successful, companies can bid for Phase 3, subject to budget availability.
Phase 3 is intended to support first real-world testing in health and social care settings to develop evidence of efficacy and preliminary proof of effectiveness, including evidence for routes to implementation to enable more rapid adoption. Awards are uncapped, funding awards are per product, typically for 12-24 months. If the Phase 3 project is successful, companies can bid for Phase 4, subject to budget availability.
Phase 4 is intended to identify medium stage AI technologies that have market authorisation but insufficient evidence to merit large-scale commissioning or deployment. Award amounts are uncapped, awards are per technology. The AAC Delivery Team will work with NHS sites to support their adoption of these technologies, to stress test and evaluate the AI technology within routine clinical or operational pathways to determine efficacy or accuracy, and clinical and economic impact.
For further information and enquiries please contact enquiries@ai-award.info or take a look at our frequently asked questions.