Digital weight management programme for NHS staff
Supporting our NHS colleagues through a digital weight management programme for staff
Over 15,000 NHS staff have signed up to the NHS Digital Weight Management Programme since it started in July 2021. This programme is part of a wider commitment in the NHS Long Term Plan, to help people living with obesity who want to improve their health.
Supporting our NHS staff this year is one of our top priorities. The NHS Digital Weight Management Programme offers online access to weight management plans for our NHS staff living with obesity.

Thousands of NHS colleagues have taken the first step in signing up to the programme to support their health and wellbeing and are seeing the benefits to their lives already.

– Jonathan Valabhji, NHS England's National Clinical Director for Diabetes and Obesity
The programme provides online access to a 12-week weight management plan to support you on your journey to a healthier lifestyle. As a digital programme, it can be used anywhere, allowing you to complete the programme in your own time.
There is never a better time to look after your health and wellbeing. Each plan provides recipes and nutrition advice, wellbeing support and tips to boost activity levels. The NHS is working with some well-known weight-management organisations like Liva, MoreLife, Oviva, Second Nature, Slimming World and Xyla Health & Wellbeing to deliver this programme.
It can be tough to make changes, but with this online plan you can take control of your weight and help reduce the risk of ill health. Join thousands of your colleagues and take the first step in improving your health today!
Case study – Danielle's story
I am a member of NHS staff and I discovered the NHS Digital Weight Management Programme through work and decided to join. Before joining the programme, I had changed my diet and saw good weight loss results, but I was missing the motivation and tailored support.
The programme was well laid out. I had access to the app with all the information and support from a dietitian, who gave me motivation. I was able to log my weight and ensure I was getting enough exercise and eating the right things. It gave me a good oversight on the importance of not just losing weight but looking after my overall health. I have a busy schedule so, by using the app I could access the information online at any time and work things around my life.
The NHS Digital Weight Management Programme gave me the confidence to realise that I can do this and that the changes I'm making are sustainable. It has given me confidence that I never had before, and the information will help me make life-long changes.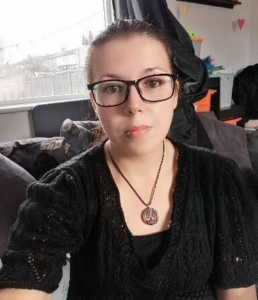 You can find more information in our frequently asked questions. There are also leaflets and posters to download.
NHS Colleagues in England are eligible to register for this programme if:
You are a member of staff working in the NHS (working in any role, including bank staff and staff on temporary contracts) with a valid NHS email address
You are over 18 years of age
You have a BMI of 30 or greater (this is lowered to 27.5 or greater for people from Black, Asian, and Minority Ethnic groups, as these groups are at an increased risk of conditions such as Type 2 diabetes at a lower BMI)
To check your BMI, please use the NHS BMI calculator.
This programme can only be accessed through a smartphone, tablet or computer with internet access.
Whilst we understand that many colleagues may be interested in signing up to this plan, this programme is not be suitable for you if:
You are pregnant
You have an active eating disorder
You have had bariatric surgery in the last 2 years
If you are not eligible for this programme, there are still many support offers available to you to improve your health and wellbeing. Please visit NHS Better Health where you can find lots of free support and tools to help you improve your health and wellbeing.
Make sure you have an NHS work email address
We need a valid NHS email address to confirm you are an NHS worker and to make sure we can contact you to start the programme. If you don't currently have an NHS email address, but are employed by the NHS, please contact your line manager to request this. We will be contacting you via this email address after you sign up so check your inbox (and junk mail) regularly.
Complete the sign up form
This will take no longer than 10 minutes. We will need some information from you to help find a plan that suits you! All information will be kept confidential from your employer and workplace.
Choose a weight management plan
Once successfully registered, you will be directed to a central platform from where you can choose from a list of available weight management plans.