Guidance for Cancer Alliances and the National Cancer Vanguard
Cancer Alliances are a way to bring together local senior clinical and managerial leaders representing the whole cancer patient pathway across a specific geography.
Together with the National Cancer Vanguard, they will lead the local delivery of the Independent Cancer Taskforce's ambitions for improving services, care and outcomes for everyone with cancer.
Delivering World-Class Cancer Outcomes: guidance on local delivery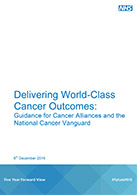 This guidance, aimed at Cancer Alliances and the National Cancer Vanguard, sets out our national expectations on the development of local delivery plans.
Apply for funding
As part of this planning process, Cancer Alliances and the Vanguard also have the opportunity to bid for transformational funding in the following areas:
earlier diagnosis
Recovery Package
stratified follow up pathways.
Find out more information about applying for transformational funding (please note: applications have now closed).